From bohemian style maxi skirts to gypsy printed rompers, check out the seven basic boho clothing must-haves every girl needs in her closet!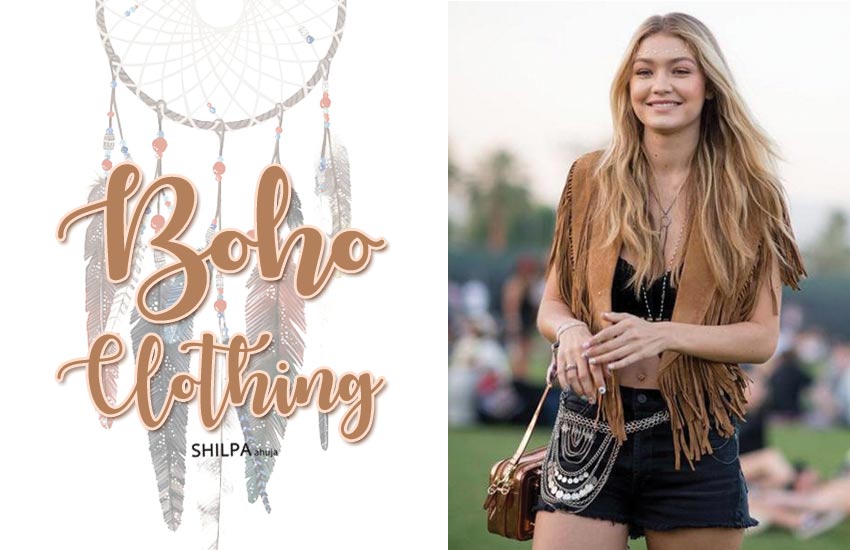 Hey gorgeous! The boho subculture is well known for fashion and consists of so many types of clothing pieces from midi skirts and flowy shorts to fringed vests and bohemian tops. It's great to have them all but you really don't need all of them to put together a boho chic outfit.
All you need are these seven basic but versatile boho clothing items to dress down or up and style in many different ways. In fact, you can create so many looks for so many occasions and events with just these seven staples! Pair these basic bohemian style clothing items with your other wardrobe staples and that's how easy it is to create boho outfits!
7 Boho Clothing Essentials
1. Fringed Boho Kimono Cardigan
Anita Fringe Kimono
If there's one boho fashion item that flatters every body type and can be worn with any outfit, I'd say it's a fringed boho cardigan or kimono in a neutral color. This white crochet kimono with fringes is a must-have for every girl's wardrobe. There are endless ways you can style this boho fashion staple. Wear it with jeans and a top for college, over a dress for casual outings, on top of a romper for brunches and dates and as a cover-up on the beach! Plus being white, it'd work great with anything and everything in your closet!

2. Boho Maxi Dress
NA-KD Boho Flower Crochet Maxi Dress 
For the evening time, you just can't go wrong with a flowy maxi dress. This deep mauve floral crochet dress with spaghetti straps would suit all body shapes as it's cinched in at the waist. With a pair of tie-up heels and some matching tassel earrings and a fringed clutch, you'd be making heads turn in this boho outfit!
3. Printed Gypsy Scarf
Citrus Boho Pattern Scarf
Scarves are one of the most versatile boho clothing items. From wearing it as a wrap or shawl around your shoulders to tying it as a headscarf, there's plenty of ways to wear a scarf. In fact, there are more than thirty ways to tie a scarf stylishly around the neck itself. You could also tie it around your waist as a cover-up at the beach. This off-white bohemian printed scarf with fringes and colorful pom-poms will let you to do all that and more! This boho clothing essential is also perfect for anyone who wants to add just a hint of gypsy to their outfit.
4. Boho Romper with Tassels
Nightwalker Womens x PacSun Marla Romper 
Rompers have got to be one of the comfiest and most easy-to-wear boho clothing items. They're one of those pieces that are perfect on their own and don't need anything else. You just put it on and you're good to go! This off-shoulder bohemian printed romper with tassels all over can be worn anywhere and everywhere. I love all the black tassels on it. I can only imagine how beautifully they'd move when you walk around! Just pair them with some flat braided sandals. Maybe with tassels to match!
5. Crochet Gypsy Top
Kiss The Sky Cold Shoulder Crop Top In Pinstripe
I'm sure every girl owns atleast one crop top. They look good with pretty much anything that's high-waisted. And they can be intimidating sometimes but here's one that you'll wanna wear all the time! With a cold shoulder, scallop edging, crochet lace and a loose silhouette, this boho gypsy crop top would work so well with so many things and for so many occasions. Wear it with your favorite jeans, shorts, denim skirts or even some palazzos. Accessorize your bohemian style outfit with a feather necklace or earrings.
6. Boho Maxi Skirt
ASOS Pleated Maxi Skirt with Belt
Simple yet chic, this flowy maxi skirt can be dressed up or down depending on your mood or where you're going. For a brunch date, pair it with a lacy cropped top, some heels and boho accessories. And for something more casual, wear it with a basic tee tucked in and some sandals. And if your hips are your problem area, this bohemian skirt is perfect 'cause it's high-waisted and super flowy!
7. Boho Palazzo Pants
Green Dragon Manhattan Beach Pant 
What do you do when it's unbearably hot outside and you don't wanna get a sunburn wearing some shorts? Wear palazzo pants, of course! They're so comfy and great for travel and vacations, which is why your closet needs a pair of these stylish pants. These loose, wide-leg palazzos can be paired with crop tops, tees and pretty much anything you can imagine. And not just for casual wear, you can style it with an embellished or beaded boho top and some heels for an evening look, too.
So that was our shopping guide to the seven basic boho clothing essentials! What are your favorite bohemian fashion items? Do let us know by tweeting @shilpa1ahuja!
Also read:
– Different Fashion Styles: Best Celeb Clothing Trends from Coachella 2018!
Nishita is a Staff Writer/ Journalist at ShilpaAhuja.com. She is a graduate of National Institute of Fashion Technology and has a degree in leather design. A lover of all things fashion, she writes about everything from beauty, hair and lifestyle to fashion trends and how-to's. Her area of expertise is outfit ideas but being fresh out of college, she also loves writing about college fashion. Her new found love of baking is currently taking over her life, making her write about all things chocolate and easy recipes. With a flair for sketching and a great eye for detail, she's previously designed leather garments for brands like Diesel and Salsa. When she's not writing, she's busy reading extremely sappy Nicholas Spark's novels, sewing clothes and listening to some indie rock. Also super passionate about photography, she loves portraits and wildlife photography – a habit turned love that formed with the amount of traveling she did as a teenager. As a girl who grew up with books and movies like Pride & Prejudice, her love for period fashion is huge. And being curly haired, she's always on a constant hunt for solutions to problems that come with having ringlets and loves sharing them with people through her articles. For feedback and questions, email [email protected] or connect with her on twitter @ni95.