Is there any color more cool yet profound like blue? So taking a selfie (or ten) becomes an obvious thing to do when you're wearing blue. From sassy to thoughtful, here are 60 blue dress quotes for Instagram!
Hey gorgeous! Blue is my favorite color, and why wouldn't it be! Blue has so many pretty shades – from turquoise to navy to sapphire to baby blue – each more beautiful than the other! There's no shortage of moods blue can go with! And while it's the color people traditionally associate with boys, there's no girl who can't rock blue. It never goes out of fashion, suits everyone, and there's no wrong way to wear it!
And that's why I had to write quotes for the universally loved #bluedress on Instagram. From azure sun-dresses to sky-blue halter minis, from powder blue gowns to midnight blue cocktail dresses, there is a type of blue dress for every occasion. Shades of blue are enough to make up a whole wardrobe!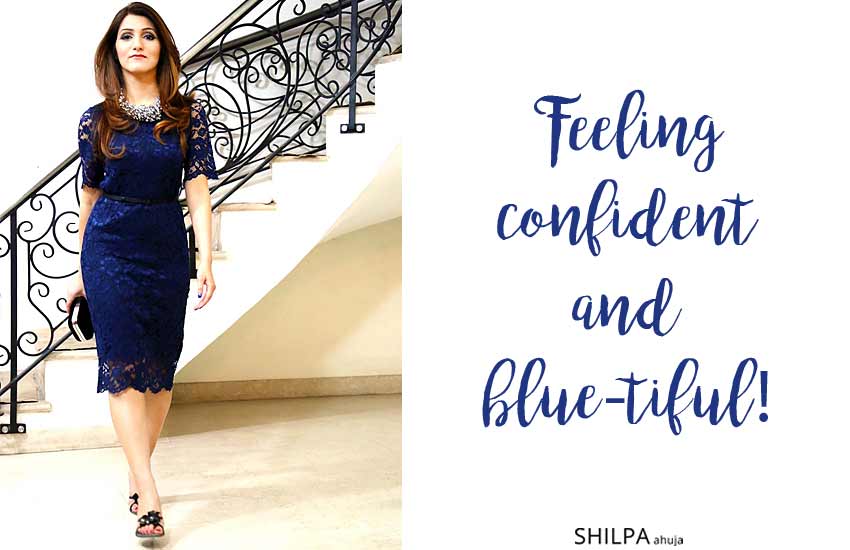 Posing in a blue dress and ready to show if off to the world? So take that sexy selfie in a calm and confident pose, like the color blue itself! From feeling blue quotes to blue outfit captions for Instagram, I've written loads of blue dress quotes for Instagram myself and compiled famous sayings to complete your IG pics!
Use them with your blue dress pics, and feel free to credit me. Hope one of these blue dress captions can get your pic all the attention it deserves on Insta!
So let's go!
Sassy Blue Dress Quotes for Instagram
Ready to slay the Instagram folks in your breathtaking blue dress and a sassy expression! Who needs to be poetic and profound when you can be witty!? Well, if you're looking for witty blue captions for Instagram, here are some that I've written myself. Let these show off your fiesty personality!
If you want more people to discover your post, like and comment, don't forget to add some related hashtags to go with your sassy Instagram captions! Here are some tags to use: #bluefashion #bluemood #bluevibes and #blueisthewarmestcolor
1. Nothing gets in between me and my blues!
2. Feeling confident and blue-tiful!
3. Blue is the color of sky – the limit of your imagination, the beginning of my dreams.
4. Cool blue on the outside, fiery red on the inside.
5. I'm a blue flame.
6. Who needs a boyfriend when you got a dress to complement you!
7. Some blues are prettier than other blues…
8. Blue is the confident purple.
9. Don't worry, be blue!
10. Someone you love, loves blue!
11. I love blue. Therefore I am.
12. I'll stop wearing blue when they make a more beautiful color.
13. Women who wear blue have bright thoughts!
14. I wear blue, I feel all new. You can't help but love me too!
15. Blue is so cool it's the the only color to have its own dedicated song! Blue by Eiffel 65.
16. Ready to take off into the night with my midnight blue dress!
17. The rarest color in nature – now adorning me!
Thoughtful Blue Dress Quotes for Instagram
Looking for some wise or profound blue dress captions for Instagram pics? Here I have written many poetic blue dress quotes to choose from, for all occasions. So be ready to pose and grab all the Insta likes in your beautiful blue dress! Good hashtags to use with these quotes on blue color dress are #blues #blueeyeshadow and #bluedress. Let's start with my favorite blue dress caption for Instagram…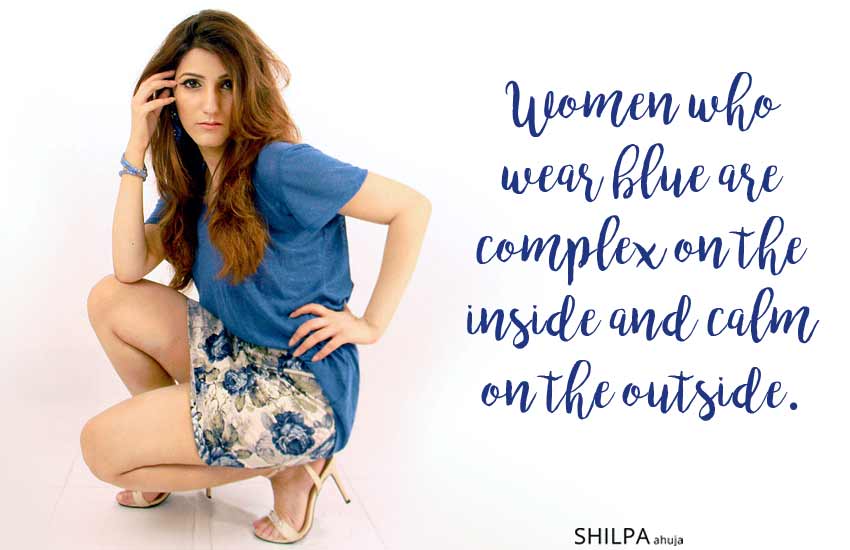 18. Like the mystery of midnight, the grandeur of the sky, the depth of the oceans – women who wear blue are complex on the inside and calm on the outside.
19. There's a reason fairies wear blue! It's the color of magic.
20. The color blue is that of a free woman, with no dimensions and infinite serenity.
21. Girls who wear blue have a fashion sense higher than the sky!
22. I'm irrational like the waves of the blue sea yet calm like the cloudless blue sky.
23. Whenever I'm lonely without you, I wear blue.
24. The color blue is universally loved and endlessly stunning.
25. Wearing blue is one subtle adventure in itself – like you're calm like a blue lake yet relentless like the blue waves.
26. The sky is clear, sun-rays are new, and it's lovely to be draped in blue!
Short Blue Dress Quotes for Instagram
Hate it when dress captions on Instagram get too poetic and wordy? Just don't like it when your IG quotes get unnecessarily lengthy? Well, this section's for you! I've written out short and sweet quotes on blue color dress in 10 words or less. Less words can still have profound meanings, just like the color blue!
These perfect Instagram selfie captions for your blue dress pics are for all moods and occasions. From beach pics at vacations to cocktail dresses at your garden parties to your sexy street style dress pics, you'll find one here for everything!
27. There is a shade of blue for every girl.
28. Who knew wearing blue was the secret to not feeling blue!
29. Work hard, party hard, and wear blue!
30. Blue – it's not for everyone.
31. Keep calm and wear blue. It always works.
32. Dream big. Wear blue.
33. When in doubt, wear denim.
34. Blue is definitely my color.
Quotes on Blue Color
Not looking for outfit captions for Instagram, but just some sweet blue quotes? Forget all those cliched blue quotes on goodreads and blue quotes on tumblr! I've written out original and short quotes about the color blue. Well, blue is my favorite color, after all!
Captured a beautiful blue flower, or looking for quotes on blue sky? Here are some generic blue quotes for Instagram that can be used for any genre! So if your pic is predominantly blue, even if you're not depicting any blue dress or anything, these are the captions for you. Whether you're showing off your gorgeous blue seascape photography, blue hair color or just some random blue objects you thought make a great composition, these quotes can help say what your pic is all about.
35. Blue is the color of nothingness. And of everythingness. So profound.
36. Blue is a source of delight, the power of serenity.
37. Red is the color of passion, blue of oblivion.
38. There's no beautiful color quite like blue!
39. Most colors are just colors. But blue seems to have a soul.
40. Think beautiful. Think blue.
41. True love is like the color blue. It's simple, it's infinite, it's forever. It is makes you feel secure and peaceful.
42. Blue is the color of water. Of life. Blue is the truth.
43. Blue is the color of infinity – it goes as far as your imagination stretches, and even beyond.
44. Blue is the color of life, peace, prosperity and patriotism.
Blue Quotes for Instagram from Songs
From feeling blue to celebrating the beauty of the blue, there are so many song lyrics that mention this versatile color. Whether it's for your blue dress or anything else. Use one of these song lyric quotes to add personality to your picture on IG!
45. Life is simple, its either cherry red or midnight blue.
46. Excuse me while I kiss the sky.
47. Be like the bluebird who never is blue, for he knows from his upbringing what singing can do.
48. I spend a lot of my time looking at blue, the color of my room and my mood.
Blue Dress Captions for Instagram by Celebs
And you thought I was the only person who ever wrote quotes appreciating the beauty of blue?! You flatter me! JK, but of course, from the Bible to Christian Dior to Paulo Coelho, blue has quite a lot of mentions, and loads of famous personalities have said quotes about it.
Here are some of the most famous sayings that you can use as blue dress quotes for Instagram pics. Some of them are not even exactly about blue, but I included them anyway, since they go with the general vibe and idea of the color blue. So hopefully, they can become good Instagram captions for your blue dress selfies and OOTDs. Take your pick!
49. "Blue is the closest color to truth." —Steven Tyler
50. "I'm a 'blue sky thinker' and dream big." —Hilary Knight
51. "Midnight blue is the only color that can ever compete with black" —Christian Dior
52. "Green calm below, blue quietness above." —John Greenleaf Whittier
53. "People didn't know the difference between a blue line and a clothes line." —Al Michaels
54. "Roses are red, violets are blue. Everything's possible. Nothing is true." —Alan Moore
55. "Everything measurable passes, everything that can be counted has an end. Only three things are infinite: the sky in its stars, the sea in its drops of water, and the heart in its tears." —Gustave Flaubert
56. "Darkly, deeply, beautifully blue."
57. "Don't be afraid, just believe." —Mark 5:36
58. "Don't let one cloud obliterate the whole sky." —Anais Nin
59. "Don't forget, beautiful sunsets, need cloudy skies." —Paulo Coelho
60. "If you can dream it, you can do it."—Walt Disney
I hope these blue dress quotes for Instagram were helpful. If you used one of these blue captions for your pic, I'd love to see it. So don't forget to tag me on your IG pic @shilpaahujadotcom and I'll be sure to like it! #KeepItStylish!
Muaah!
<3
Read next:
– 51 Red Dress Quotes for Instagram from Thoughtful to Badass
– 150 Fashion Hashtags for More Likes on Instagram: Revamp your Selfies!
– Get Free Instagram Likes (and Followers) with These 25 Pro Tips
Shilpa Ahuja a designer and entrepreneur. She is the editor-in-chief of ShilpaAhuja.com, which she founded with the goal of inspiring confidence in the modern working woman through fashion.
Fashion has traditionally been for the rich, white, thin woman. That's how it evolved over centuries and that's how it's been represented in fashion media. But Shilpa believes that with the changing role of women in the society, fashion has changed, too. She believes that fashion is for everyone, regardless of their age, gender, color, body type and background. So she translates runway fashion into easy style advice that one can incorporate into their daily lives.
Shilpa's work has been published in the University of Fashion blog and Jet Airways magazine. She is also an artist, illustrator and cartoonist. She is also the creator of Audrey O., a comic series that represents the lifestyle of millennial women. She enjoys creative writing and world travel. Her art has been exhibited at Harvard Graduate School of Design and the Aroma Hotel, Chandigarh and been published in Chandigarh Times.
Originally from Chandigarh, Shilpa also has a professional degree in architecture and has worked in interior project management. She is also the author of the book "Designing a Chinese Cultural Center in India". Shilpa has a Masters in Design Studies degree from Harvard University. For feedback and questions, please email [email protected]