From witty to badass to poetic to cute, here are 75 black dress quotes for Instagram. We have included original captions, famous sayings for all moods, occasions & genders!
Hey gorgeous! Black has a special place in everyone's wardrobe. From night-outs to black-tie events to college graduations or even funerals, black is the color for so many occasions! And no one ever looks bad in black. So there's really no reason to not wear it.
75 Black Dress Quotes for Instagram
Whether it's a special occasion or black is all you wear everyday, a great black outfit calls for a selfie! And a great caption to go with it! There are so many ways to make a picture look great when you're wearing black – posing against a white wall, posing against a colorful backdrop or in a lush green garden or getting all monochromatic on a grey street.
So find that perf backdrop, pose and click! Show off your beautiful black dress and style! And then collect all the likes and comments on Instagram because I made so many black dress quotes for Instagram for you. Here are all types of black outfit captions to go with your pics.
Witty Wearing Black Quotes for Instagram
by Shilpa Ahuja
Want your black dress selfie to show off your wit & attitude? Well, the color black kinda has its own attitude, doesn't it! But every photograph is better with a one-liner that makes you sound cool! No matter whether you're dressed in a black suit, dress, shirt, or anything else, I've whipped up some sassy black dress Instagram captions for your pics. You're welcome!
You can also add some hashtags like #blackismyhappycolor #blackdress #allblack #blackismycolor and #iloveblack. I've written these quotes myself, so feel free to credit me in your caption.
Life is not always black and white, but there's no harm in wearing it.
Black is a universal taste but an acquired obsession.
A color that makes me look slim, makes me feel mysterious and doesn't need a wash every time? What's not to love!
Even God wears black when He goes to party.
Welcome to my dark side!
You can't unravel me. Why bother trying?
Some say I'm bringing out my Goth side, some say I'm trying to look sexy. But hey, I'm just wearing a black dress because it's the only one that I can't wear twice before washing! 🤣
Black is out of fashion.. said nobody ever.
I like my dresses just as I like my coffee. Black.
Shopping trips are simple – there's always a nice new black dress to bring home!
Note to self.. must get more black.
Whoever said any other color is the new black seriously needs some help.
Badass/ Savage Quotes on Black & Dark Side
Does your black outfit today match all the darkness within you? Well, don't hide your dark side. Here I've made some badass black dress quotes for Instagram. Short & savage, these quotes will show the world what a bad girl (or boy) you are! Just copy and paste one of these black status/ quotes and add some hashtags for more people to discover you and grab all the attention on IG! Some good ones to use are #badgirl #darkside #darkfantasy #darkfashion and #darksouls. These popular badass & darkness hashtags are surely gonna make your pic get noticed.
Why do I always wear black? It matches my soul.
I'm the darkness, forever shrouded in mystery.
Embrace your dark side, wear black… SlubGuy
A dress as black as my heart.
Unleashing the darkness within…
Black is the color of a predator.
I'm meaner than my demons when I'm wearing black.
Showing off my dark side today…
Black is natural evil.
Wearing Black Captions for Instagram Photos
by Shilpa Ahuja
Witty and attitude quotes not your type? Wanna show off your love for this simple yet mysterious color? Well, by all means, do so – with these quotations… Here I have written some beautiful black dress quotes for Instagram that are full of wisdom and poetry. I've also written some quotes on black beauty, or rather the beauty of color black, which you can use as IG captions.
Whether you're an Instagram blogger or just a fashionista wanting to show off your hot dress & excellent photography abilities, here are the perfect black dress quotes for Instagram to help you inspire your audience. Impress all your followers with your beautiful photo! Again, I've written all these poetic quotes myself, so you can credit me in your picture caption if you like. Here you go…
The night sky doesn't always need shining stars to look beautiful, and a black dress any jewelry.
A black dress is the oxygen of fashion.
Black is infinitely chic, undeniably mysterious and deeply misunderstood.
Whoever said red is the color of romance didn't understand fashion's love for black. Fashion has been courting black for centuries…
Black is the only color that's enough to make up a whole wardrobe.
Black is the only color that can make you look classy and simple, charming yet effortless, sexy yet elegant – all at the same time.
The magic and mystique of black never fails to amaze me.
A black dress is to fashion what red roses are to romance.
Stars can't shine without darkness.
Short Black Dress Captions & Black Color Quotes
Don't like words and words in your Instagram selfie captions? Want black dress quotes for Instagram that are crisp and to the point – just like you? Not too long, but just precise? Well this section is perfect for you! These short & sweet captions can convey your feelings in 7 words or less! Because good things come in small packages! 🙂 Pick your fave and add it to your pic with some fashion hashtags and watch everyone fawn over your pic!
I only wear two colors – black and noir.
Black is an unstoppable force.
Black is my power.
Back in black.
Black is not a color. It's a lifestyle.
A black dress is forever!
All black everything.
I feel comfortable in black.
Black is power within.
Black clothes today and always.
Famous Black Quotes & Black Dress Sayings
Looking for famous sayings on black dresses and wearing black? Forget black color quotes on Tumblr and Reddit. If you wanna sound smart, here are some fashion quotes by designers and celebs that you can use as your Instagram captions for black dress pics.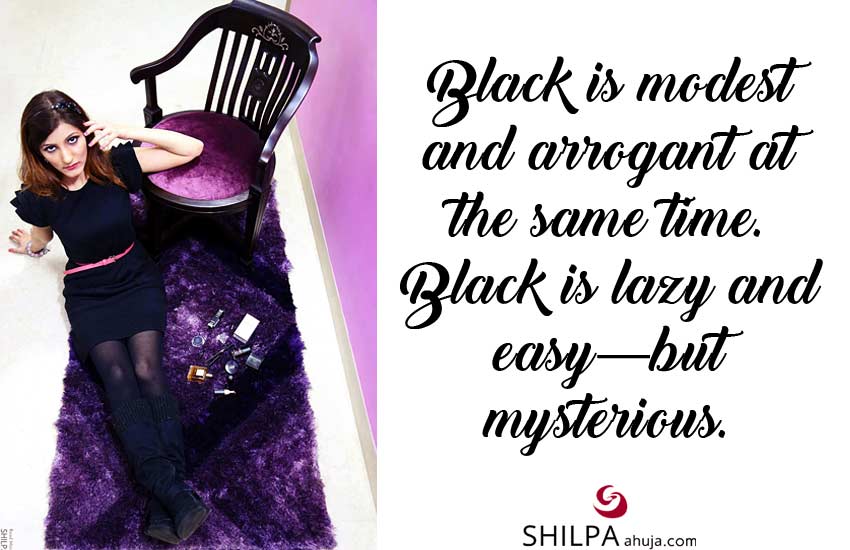 "I'll stop wearing black when they make a darker color." – Wednesday Addams
"You can wear black at any time. You can wear it at any age. You may wear it for almost any occasion; a 'little black frock' is essential to a woman's wardrobe." – Christian Dior
"Black is always elegant. It is the most complete color in the whole world, made of all the colors in the palette." – Ricardo Tisci
"Black is the hardest color in the world to get right—except for gray …" – Diana Vreeland
"Women think of all colors except the absence of color. I have said that black has it all. White too. Their beauty is absolute. It is the perfect harmony." – Coco Chanel
"Black is modest and arrogant at the same time. Black is lazy and easy—but mysterious. But above all, black says this: I don't bother you—don't bother me." – Yohji Yamamoto
"One is never over- or underdressed with a little black dress." – Karl Lagerfeld
"Women who wear black lead colorful lives." – Neiman Marcus
"I work in three shades of black." — Rei Kawakubo
"Let us step into the night and pursue that flighty temptress, adventure." – Albus Dumbledore
"For me black is not dark, it's poetic." – Ann Demeulemeester
"There is something about black, you feel hidden away in it." – Georgia O'Keeffe
"I love all the colors mixed together. BLACK." – Brian Elston
Black Dress Quotes for Instagram for Men (or Women)
Who says cute selfies are just for the girls? Unleash the fashion icon within you, strike a pose and take some outfit-of-the-day pictures! And then get ready to grab all the eyeballs on Instagram with a great status on black suit or some nice black shirt quotes. Black is a great color to pose in – it makes you look both cool and classy! Here are some captions you can use…
Black is the new Black.
I hate it when my blacks don't match.
Black shirt, black jeans, black shoes, black everything.
Addicted to black.
Classy is the original black.
Shopping rule: If its not black… put it back.
I chill harder than you party.
Wearing black makes me smile from inside.
Black suits me best.
I own too much black – said no one ever.
Don't ask why I just wear black.
Wear any color you like as long as its black.
I'd buy anything as long as it's in black.
BLACK… the only true color.
The queen of all colors is black.
Keep calm and love the all-black.
I could wear other colors, but what's the fun in that?!
An infinity of fashion can be contained in one color – Black.
A color should be two things – dark and powerful.
Black Outfit Captions for Instagram
Wanna show your love for black outfits with your pic? Whether you're rocking a cocktail gown or an athleisure outfit, these black outfit captions will go your pics. From parties to street style OOTDs, I have made some quotes for every type of outfit and occasion.
Just add some hashtags with your IG pics such as #backinblack or #blackoutfit #indianfashion and see how all your Instagram fam discovers and double taps on your pic!
Let's go!
Reason to buy too many black clothes? There's always a black darker than all your blacks!
Stop looking cute and start looking sexy. Wear black.
Black is both minimal and complicated. It's both sexy and simple.
Easy to match when you're wearing black.
Why wear any other color when you can wear black?
I hope these black dress quotes for Instagram were helpful. If you used one of these black outfit captions for your pic, share with me 'cause I'd love to see it. So don't forget to tag me on your IG pic @shilpaahujadotcom and I'll be sure to double tap on it!
Muaah!
Read next:
– 51 Red Dress Quotes for Instagram from Thoughtful to Badass
– 60 Blue Dress Quotes for Instagram for All Moods & Occasions
– Get Free Instagram Likes (and Followers) with These 25 Pro Tips
---
Advert:
Also check out Udemy course on How to Grow and Monetize your Instagram: Step by Step Guide to start a business with your Instagram account.

Monetize your Instagram as an Instagram Influencer 2019
---
Shilpa Ahuja the editor-in-chief of ShilpaAhuja.com, which she founded with the goal of inspiring confidence in the modern working woman through fashion. Other than defining the direction of the magazine, she also writes about fashion & beauty trend forecasts, industry analysis, and opinions.
Shilpa's work has been published in the University of Fashion blog and Jet Airways magazine. She is also an artist, illustrator and cartoonist. She is also the creator of Audrey O., a comic series that represents the lifestyle of millennial women. She enjoys creative writing and world travel. Her art has been exhibited at Harvard Graduate School of Design and the Aroma Hotel, Chandigarh and been published in Chandigarh Times.
Originally from Chandigarh, Shilpa also has a degree in architecture and has worked in interior project management. She is also the author of the book "Designing a Chinese Cultural Center in India". Shilpa has a Masters in Design Studies degree from Harvard University.
For feedback and questions, please email [email protected]