From chiffon sarees to cool athleisure, from hilarious fashion disasters to giving fashion goals, here's the best and worst 90s Bollywood fashion.
From my previous post on Female Bollywood characters we connect with, you guys already know how much of a bollyholic I am! So after watching a movie, the characters and mood stays with me. Sometimes I even dress up like the characters I saw in the movie. Right, laugh! But I can't be alone!
Bollywood movies are the trendsetters when it comes to fashion in India. And 90s Bollywood fashion is iconic, a milestone in itself. 90s was the era which brought in the Manish Malhotras and Sabyasachis into Bollywood and has us all copying their looks!
I grew up watching Kajol, Juhi Chawla and Aishwarya Rai in the movies. I used to try to dress up like them or their hairstyles as a kid. Of course, our mothers, too, would take cues from the 90s Bollywood fashion. This is the impact Bollywood has had on our fashion!
A few disastrous styles gave me an eye attack! Ouch! that hurts! While we had fashion icons, we also had faux-pas and terrible taste!
So, we have listed the best and worst 90s Bollywood fashion for you! If you're a 90s kid, be ready to get nostalgic! (Sigh! I can't believe it's already been mojere than a decade since 90s!)
Fashion Back Then | Early 90s Bollywood Fashion
The decade started with movies like Dil, Saajan, Lamhe, Darr, Baazigar, Hum Aapke Hain Kaun and many more. The early 1990s Bollywood movie fashion continued seamlessly from the late 80s fashion with chiffon sarees, sheer dupattas, and long sleeved ethnic wear.
Also read: Indian Bollywood Fashion Through Decades: 1960s to Present
So, let's discover the best and worst of early 90s Bollywood fashion.
Worst of Early 90s Bollywood Fashion
As there was no concept of a fashion designer or a personal stylist back then, costume designers took off the plane and crashed it smoothly, too! Here's some of the most unwearable fashion that Bollywood has ever shown!
Exaggerated Hair Accessories
Headbands, large hair bows and costume – with big sequins were too much to take. And you can't miss Madhuri Dixit's bright colored ribbons in Dil! Add large hoops and expression to complete the look!
Also read: All about 90s jewelry trends: what's back and what's not!
Super Woman

I have nothing to say! Really, what is this?!
Super Glossy Lipsticks
Shine, shine and more shine! My expression is exactly same as Raveena's in this picture.
Super Arched Brows (And Deep Black!)
Only Shilpa Shetty can pull it off!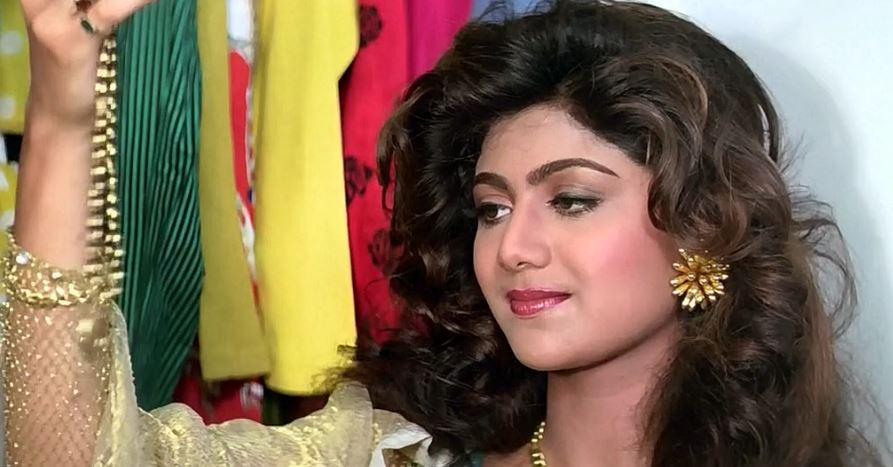 Puffed Sleeves
Puffed sleeves were a trend back then even in Hollywood! But Bollywood movies took it to another level by incorporating these in ethnic wear – saree blouses and kurtis!
Midi Skirts
Midi skirts were huge in the 90s. Especially the badly fitted ones! And Raveena Tandon, weren't you playing the role of a rich man's daughter? You look like a maid, in that skirt! But surprisingly Karisma Kapoor's sporting some trendy – looking culottes. Also! Don't miss Salman's hilarious trousers. And we wanna see Aamir in that shirt now!
Weird Sunglasses
That hairstyle! And those sunglasses randomly picked from Chor Bazaar. Really, Madhuri?
Verdict
Fashion disaster at its best!
Best of Early 90s Bollywood Fashion
Somehow there were still a few styles we're still loving. In fact, some of the dresses from late 90s went on to become the most iconic Bollywood costumes. Let's take a look!
Lace Dresses
The red lace dress worn by Madhuri Dixit in 'Hum Aapke Hain Kaun' became something of a wardrobe staple of stylish young girls!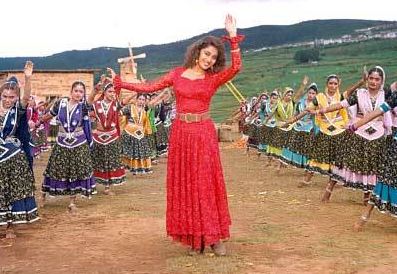 Chokers
Chokers were a thing! Glad they made a comeback in 2016!
Corset Belts
A bold look, but Juhi Chawla in Darr made it all fresh and feminine by sporting a corset belt.
Off-the-Shoulder Tops
The off-the-shoulder tops made a great casual look. These, too, have made a comeback now. I love how Juhi has paired it with another corset belt. The perfect 90s vacation outfit.
Satin Sarees
It all started with Madhuri Dixit's legendary purple saree. We adore the look, by the way!
Fashion Back Then | Late 90s Bollywood Fashion
The late 90s period was a savior for Bollywood! It started off with movies like Dilwale Dulhania Le Jayenge, Raja Hindustani, Dil to Pagal Hai, Kuch Kuch Hota Hai, Hum Dil De Chuke Sanam and many more.
Fashion became a serious business in Bollywood in the late 90s. We saw fashion designers like Manish Malhotra who brought a revolution in Bollywood movie fashion. He introduced international designer brands and top trends in Indian cinema.
This was a welcome change, but of course, we can't ignore a few disasters either.
So, let's discover the best and worst of late 90s Bollywood fashion.
Worst of Late 90s Bollywood Fashion
High Waist Jeans
Kajol's expression in the picture says that she too has no idea why her jeans are riding up so high! You can never woo a man like this! You will scare him away.
Gold Woman
Too much gold and shine! Why, Kajol, are you so obsessed with a gold lehenga and pairing it with gold accessories, too? What on earth, you were thinking?
Weird Salwar Kameez
Why is she wearing a dupatta? What purpose is it serving?
Too Hard to Digest
Heavily embroidered lehengas with heavy ornaments were too tacky. Thankfully, the wedding fashion in Bollywood evolved.
Best of Late 90s Bollywood Fashion
Off-the-Shoulder Tops and Dresses
Off-the-shoulder tops and dresses continued to make their way in Bollywood movies. Mostly paired with jeans, considering even jeans were bold back then!
P.S. Madhuri's expression is too funny to ignore!
Halter Neck Gowns
The green halter neck gown worn by Kajol in DDLJ became the definition of party wear. We, too, love the dress although, she could work on her expression!
Crop Tops and Chokers
Crop tops became a thing. If the movie showed a college going character then surely, there would be a look with a crop top. And chokers continued to be seen.
Athleisure
The concept of athleisure started in India with the movie Dil to Pagal Hai. This movie launched the trend of wearing sportswear as a daily wear. We also loved some of the street wear fashion worn by Karisma Kapoor!
Denims
Denim on denim, too, became huge after the movie Rangeela. Urmila effortlessly pulled off the button-up denim shirt.
Silk Sarees
The traditional south-Indian silk sarees were worn elegantly by Karisma Kapoor in Biwi No.1.
Chiffon Sarees
First of all, thank you, Karisma Kapoor, for introducing straightened hair to us. Also, the quintessential chiffon saree Bollywood look continued in the 90s – but with better blouses. The salwar kameez were casual and wearable.
Also check out: 90s Hairstyles: The 1990s Hair Trends Worth Remembering!
Royal Lehengas
Just like the sets of Hum Dil De Chuke Sanam, the costumes of Aishwarya Rai was extravagant, royal and mesmerizing. Though they're not for daily wear like shown in the movie, they work great for weddings and parties!
So, did you like 90s Bollywood fashion? And which look from our worst list made you laugh? Let us know by tweeting us @shilpa1ahuja.
Also check out more on the 90s:
– The complete guide to 90s fashion: 90s clothing, 90s trends and 1990s celeb fashion
– Who Were the Original 90s Supermodels?
–Evolution of the Bollywood Bikini: 1960s-2010s: Empowerment or Objectification?
– 90s Men's Fashion: Hip-Hop, Punk, Rock and More…
Sahana is a Senior Staff Writer at ShilpaAhuja.com. With an experience in fashion and lifestyle writing, Sahana is responsible for Indian and international fashion week coverage every year, and is developing an expertise in apparel trend forecasting. She also writes about health and fitness, having pursued yoga for 6 years now. She's not a gym person at all but is all for "running in the park" and is an amateur cyclist. Books and coffee are her other passions. She's also an amateur photographer. She's a hardcore Bollywood fan and she loves to cover the nostalgic topics on the same. From fashion trends to famous characters, she can make anyone love Bollywood! Her best article has been 90s Bollywood fashion, a readers' favorite so far! Prior to her experience with ShilpaAhuja.com, Sahana has written as a freelance author for online magazine, Mashup Corner, and interned at EventsHigh as a content writer. Her blogs on basic fashion, makeup, fitness and city's food joints that gave her a chance to experiment with her writing. She also has voiced her opinions about feminism and equal rights for men and women at PolkaCafe journals and after quitting her job, she decided to take up writing as her full time career.
Sahana is an engineering graduate and has worked in an MNC, Tesco, for more than a year as an Operations Support. It was her sheer love for fashion that made her quit the monotonous 9 to 5 job to pursue a career in the fashion industry. She's originally from Bangalore and is currently settled in Chennai (she's loving the city)! For any queries and discussions, contact her at [email protected] You can also tweet her at https://twitter.com/Sahana_17