Bare your shoulders this season! We have made your shopping easy by choosing the best off shoulder dresses and tops!
Hey busy lady! Held up with heaps of work and finding no time to shop for yourself? I am here to make your shopping faster with this season's top 15 off-shoulder tops and dresses. Bold and sexy shoulder baring silhouettes are really trending this season. In fact, I am looking one for myself, too. So lets see which one gets to be in my own shopping cart!
Here are the hottest 15 off shoulder outfits to buy right now!!
Off Shoulder Dresses
Bored with your usual LBD? Go ahead and try the off shoulder dresses in black. Or get a pastel colored off shoulder dress with large, sexy ruffles at the collarbone! I am eager to buy blue the off-the-shoulder dress by Stalk Buy Love.
White Sway Dress- Stalk Buy Love: ₹2399
Open Neck Bead Detail Bodycon Dress- Koovs: ₹510
Blue Cotton BodyCon Dress- Stalk Buy Love: ₹1299
Off Shoulder Tops
If you wanna glam up your regular jeans this year, go for a cute and long off shoulder top, or a sexy off shoulder crop top! Let's check out our favorites.
Off Shoulder Crop Tops
Veni Vidi Vici Pink Off-Shoulder Crop Top- Myntra: ₹540
Pink Crepe Off Shoulder Crop Top- Stalk Buy Love: ₹1199
Off Shoulder Long Tops
Black Sven Top- Stalk Buy Love: ₹1149
Jenson Blue Top- Stalk Buy Love: ₹1149
Mint Crepe Off Shoulder Top- Stalk Buy Love: ₹1199
Black Bodysuit- Stalk Buy Love: ₹1149
Cation Black Off-Shoulder Top- Myntra: ₹699
Shoulder Cut-Out Tops
If you aren't feeling bold enough to try the off-shoulder trend , try one with shoulder cut-outs. They work well with ripped jeans or flared mini-skirts to create trendy casual outfits. Here are some cut-out tops to try.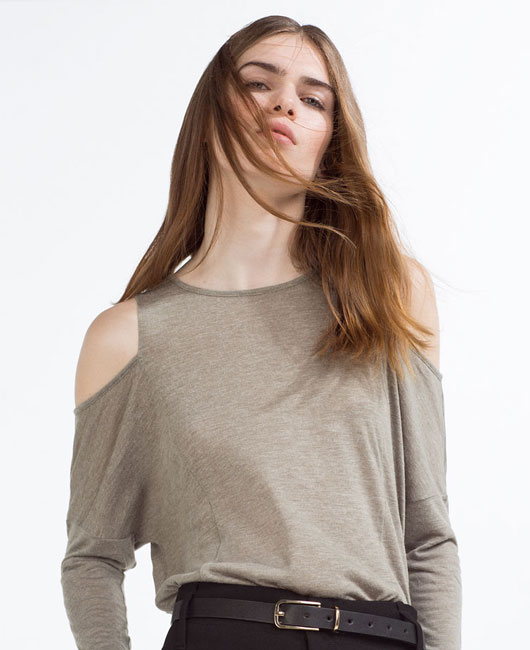 Top with cut out shoulders- Zara: ₹490
Monochrome Halter Bow Tie Top- Koovs: ₹1195
Shoulder detail top- Mango: ₹1140
Off Shoulder Rompers
Rompers are perfect summer outfits and off shoulder makes them all the more fun! I am gonna try the bold printed romper from Stalk Buy Love.
Printed Lace Playsuit- Stalk Buy Love: ₹1449
Abstract Stella Playsuit- Stalk Buy Love: ₹1349
So, I hope you liked my selection of off-shoulder tops and dresses. Are you gonna try this sexy 70's inspired trend? As for me, I'm thinking of buying the mint crepe off shoulder top by Stalk Buy Love. Let's see how it looks on me!
Anusha Jain is a Staff Writer & SlubShop Manager at ShilpaAhuja.com. She has a diploma in Fashion Design from iNIFD and is originally from Andhra Pradesh. Before entering into the field of fashion, she got a Masters in Analytical Chemistry. Her love in fashion design, a passion in staying updated with the latest trends and zeal to do something creative paved her way to a career in fashion. Here, at Shilpaahuja.com, she works on bringing the latest in shopping ideas, fashion tips and beauty advice to SlubShop, the world's first purely trend-based affiliate store. Accessories are her expertise. Her work on SlubShop involves bringing the latest runway trends to the masses, and designing the UI/UX to make it look innovative and fresh. She is also a fitness and dieting aficionado, writing about bringing the latest in the world of wellness and health. When she's not writing she loves to travel, watch movies and also she is interested in photography, using herself as a muse. For feedback and questions, email [email protected] or connect with her on Twitter @Anushajain14.