Hey guys! The 88th Oscars took place last night and while a lot of talk is about the actresses' poofy fancy gowns, we are here with the best men's fashion. We saw sharp-looking men in designer tuxedos, bow-ties, sunglasses, shiny shoes and even hats!Let's take a look at who were the best dressed men at Oscars 2016!
Let's start this list with Leonardo DiCaprio who after five nominations, finally won an Oscar for best performance by an actor in a leading role, for his work in "The Revenant". Here he is receiving the award:
And Eddie Redmayne who looked great in his velvet tux:
And my other two favorites in men's Oscar looks are:
Other than the classic black, we saw deep blue, midnight blue and deep emerald tuxes and jackets too. Here is the gallery of the best dressed men at Oscars:
And let's not forget our favorite Star Wars droids, BB-8, R2-D2 and C-3PO, who came on stage to honor Star Wars composer John Williams who received his 50th Oscar nomination!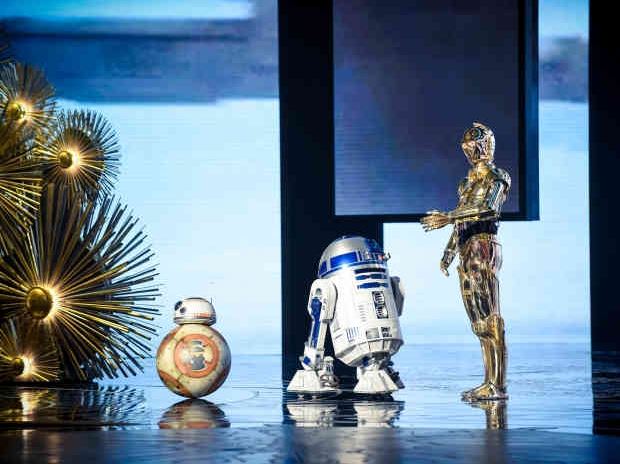 Also check out Women's Best Oscar Dresses | Best Dressed Celebrities at Oscars 2016!
Shilpa Ahuja a designer and entrepreneur. She is the editor-in-chief of ShilpaAhuja.com, which she founded with the goal of inspiring confidence in the modern working woman through fashion.
Fashion has traditionally been for the rich, white, thin woman. That's how it evolved over centuries and that's how it's been represented in fashion media. But Shilpa believes that with the changing role of women in the society, fashion has changed, too. She believes that fashion is for everyone, regardless of their age, gender, color, body type and background. So she translates runway fashion into easy style advice that one can incorporate into their daily lives.
Shilpa's work has been published in the University of Fashion blog and Jet Airways magazine. She is also an artist, illustrator and cartoonist. She is also the creator of Audrey O., a comic series that represents the lifestyle of millennial women. She enjoys creative writing and world travel. Her art has been exhibited at Harvard Graduate School of Design and the Aroma Hotel, Chandigarh and been published in Chandigarh Times.
Originally from Chandigarh, Shilpa also has a professional degree in architecture and has worked in interior project management. She is also the author of the book "Designing a Chinese Cultural Center in India". Shilpa has a Masters in Design Studies degree from Harvard University. For feedback and questions, please email [email protected]