From Tom Cruise to Brad Pitt, drool over the best celebrity six packs. Hollywood hunks are topless in this six pack war! Discover who has the hottest abs!
Hello everyone. Guy here. We all know that when most guys see themselves in the mirror, they picture themselves like this. And when most girls picture their dream guy, it's like this. But let's not get real here, let's stay in our dream worlds. Because we all love fantasies, so why break them? Let's stay in the Matrix universe.
So I've picked out the hottest celebrity six packs, and some of the most iconic Hollywood and sports celebs with the sexiest abs. We may be in a dream world, but there's still a battle to be won – a six pack war. It's topless. It's hot. Let's see who has the hottest abs!
#16: Robert Downey Jr.
Sherlock Holmes with his retro six pack, makes the cut but still a long way to go…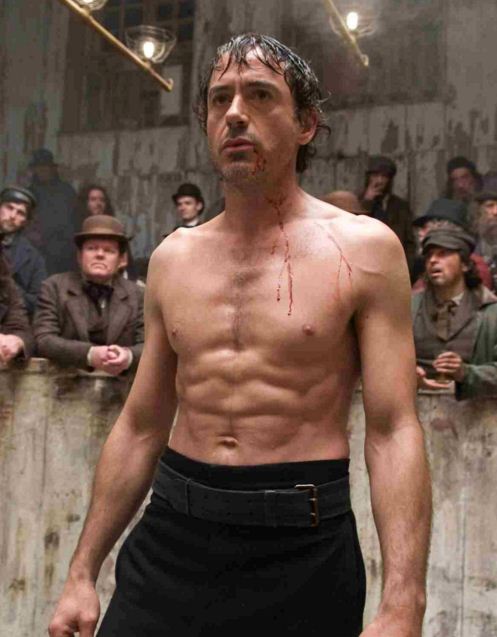 #15: Tom Hardy
Loved Tom Hardy in warrior, he was brutal with unlimited no care attitude. You have would have been number 1 if this was an attitude contest!
#14: Bruce Lee
The legend himself, had this list been published 20 years ago, Bruce Lee would definitely have been number 1. But times have changed and so has the idea of a great bod and abs.
#13: Sylvester Stallone
The Italian Stallion, another Hollywood legend who defined the way forward for today's Hollywood hunks.
#12: Tom Cruise
Tom Cruise has a great attitude and costume to match with those abs. And looks! Too bad we're not seeing more of this these days.
#11: Chris Pratt
Way to go, Chris. You have potential, but your abs still have a long way to go to reach the top in this six pack battle!
#10: Usain Bolt
It's hard to compete with the fastest man on the planet. So whatever stupid poses you make, it's all acceptable when they come with those abs and those legs.
#9: Gerard Butler
Gerard you have to work harder, man, if you wanna make it higher in the top ten of the hottest Hollywood abs.
#8: Jason Statham
You're the badass, and that's what keeps you here. Your hot bod more than makes up for your bald, and we men love you. Keep up the attitude, bro.
#7: Mark Wahlberg
Ok, now I'm wondering why I put you in the top seven. But you're one underrated actor, and I'll give you that.
#6: Bradley Cooper
Well, girls love your face and body. And your smile. I don't want to offend them, and you're only here because my editor wanted it. So let's blame it on political reasons.
#5: Channing Tatum
Well, here's another actor with great potential. But your abs have brought you this far in Guy's Six-Pack battle. Although I will have to admit there's some girl influencing my ratings.
#4: Ryan Reynolds
Well, Ryan you totally screwed up your chances with Green Lantern. But by admitting your mistakes in Dead Pool, I'm ready to give you another chance in this abs war. Plus Blake Lively emailed me with recommendations herself. Can't say no to her, can I?
#3: Brad Pitt
Brad is one of the hot Hollywood actors who act well and also have a body to die for. With a face like that, who needs great abs to make this list. Not just women, but men drool over you, too.
#2: Hugh Jackman
Most men fantasize you can take out your Wolverine claws in a snap, and that's great reason for someone to be here in this top celebrity six packs list.
#1: Cristiano Ronaldo
This is real deal, you don't need six pack to show off as you aren't in show biz. Your love makes him strong and your hate will only make him unstoppable!!
So those were the hottest celebrity six packs. Who do you think has the best abs in Hollywood?
Read next:
– Infinity War: What's Happening in the Next Avengers Film? We Have a Hunch
The Guy is very handsome, and loves being misunderstood. He loves sports, cars, sports cars and women. He's an expert on men's fashion and lifestyle, but frankly, he's also an expert on women's fashion, particularly when it comes to looking sexy. Follow him on Twitter @slubguy where he posts the hot photo-shoots he does for Shilpa Ahuja, and writes his opinions on sports and politics. For feedback and questions and any advice, email [email protected]