Body image issues amongst teen girls – whose fault? Model's or the industry's? Read about the Bella Hadid surgery controversy and other models with lip injections and nose jobs.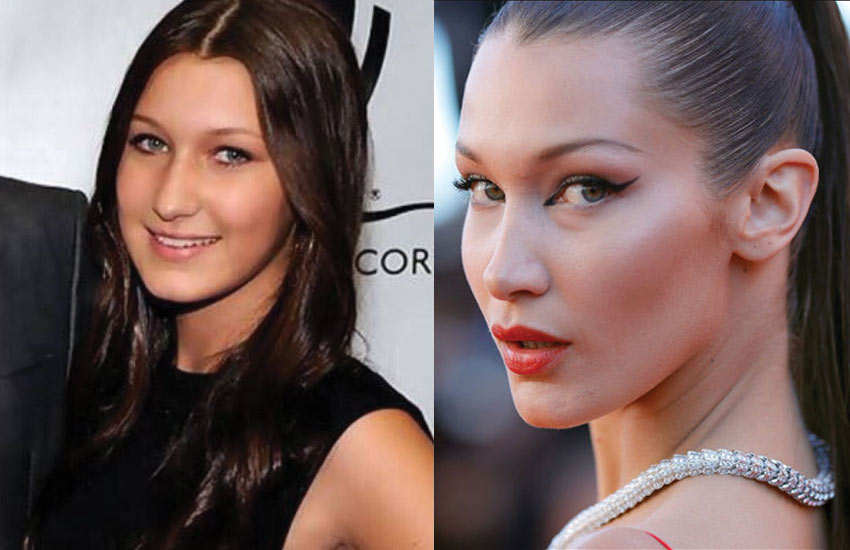 With the rise of celebs undergoing plastic surgery, we millennials have no one real to look up to. Pop culture is filled with nothing but plastic. We're not judging the women who have gotten plastic surgery, 'cause it's their choice after all.
But, when you're a public figure with a reach of over millions, most of them being young girls, you have a responsibility. A responsibility to not set impossible beauty standards, which all of these girls and young women are failing to keep up with. But of course, we can't blame them entirely either. When you're a model, your job is to be judged for your body and to compete with the world's most perfect ones. So being perfect becomes a necessity that helps you earn a livelihood. But why perfect at the cost of being plastic? Because the industry rewards it. The modelling industry is quite sick in the way that it pressures women to be and look a certain way.
So let's take a look at some examples and our thoughts on this issue including the Bella Hadid surgery, Kylie Jenner lips and Gigi Hadid nose job controversies.
Bella Hadid Before Plastic Surgery
Before Bella Hadid got into modelling, she was an equestrian. Images of her in 2010 show how normal, beautiful and most of all, real she looked. With a bump down the center of her nose, a broad tip and thin upper lips, she looks relatable and realistic.
Bella Hadid Nose Job
In 2014, Bella made a red carpet appearance at the Kid's Choice Awards with full lips and a defined, pointy nose. Everything that made her look human was replaced by unrealistic and so-called "perfect" features. And sure, you can argue that it could have been puberty's doing but there's only so much a growth spurt can do to you. Not change your entire nose (and maybe face) structure. There's way too much difference between Bella Hadid before surgery and after.
Bella Hadid Surgery – Before and After Photos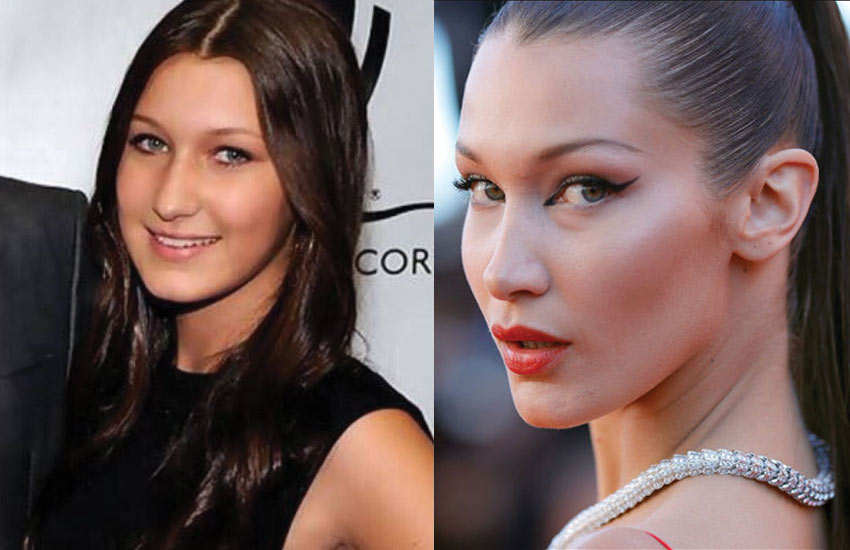 So, even though Bella Hadid herself has not made any official statement regarding her nose, I think it's pretty evident that the nose she had back then is not the same one she has now. And I'm tired of hearing things like 'Bella is so perfect', 'I wish I had a nose like hers', etc. All I can say is, firstly, perfection doesn't exist and these celebs ain't real. Sure, they're gorgeous looking, but nothing's more beautiful than being your true self.
However, as we know, Bella Hadid's modelling career really took off after these changes in her appearance. And she now has countless contracts to appear in ads for brands like Dior, Nike, Bvlgari, which makes other aspiring models believe that they also require an appearance makeover or plastic surgery before their career can take off.
Other Celebs and Models Who Have Had Plastic Surgery
Gigi Hadid Plastic Surgery
It's sad how plastic surgery transformation is so common these days that someone who may have a naturally pointed nose is also speculated for having gotten a nose job. And Gigi is one of them. Sister of Bella Hadid and famous model, her body and face is the talk of the town. Gigi Hadid nose job and Gigi Hadid breast implants are some of the most discussed topics. We can't be sure if she did have surgery done or not. I personally don't think so. But you can never trust celebs these days.
Kylie Jenner Lips
Who ever said thin lips weren't beautiful, too? What's with this trend of over lining the lips, lip plumping and getting lip fillers? I just can't seem to understand it. Kylie admitted to getting lip fillers when she was just 17.
And we all know she's worked on other parts of her body, too. 'Cause if you look at images of her when she was around 18, it's so obvious. And in spite of clearly getting plastic surgery, Kylie claims that the secrets to her curves are waist trainers and butt enhancing creams. Girl, sorry, but you're not fooling anyone.
Kim Kardashan Botox & Surgery
We all know how much this reality star has worked on her butt, breasts and face. She's also believed to have gotten botox injections to smoothen out the wrinkles on her face. And if you took a look at her images before and after fame, you can see the massive difference. Kim K has also been criticized for photoshopping cellulite from her hips and legs in many pictures, making them look impossibly smooth and line-free.
Emily Ratajkowski Nose Job
Similar to the Bella Hadid surgery gossip, Emily's nose became a topic of discussion, too. She's yet another one of the models who have had nose jobs. And thereby setting unrealistic beauty standards. Is having a not-so-pointy nose really such a bad thing?
Hailey Baldwin Nose Job
Another one of the models who have had plastic surgery is Hailey Baldwin. There's so much difference between her old and new images that we have to give it to her surgeon for the unbelievable transformation.
Why This is a Big Issue?
Here's why the Bella Hadid surgery is an actual issue. By doing such things, celebs are saying that it's okay to alter your bodies. And that's far from okay. It's alright if someone does it out of personal choice. But no one, woman or man, should ever feel that they have to have these model-like features to be considered beautiful. And someone who's looking to get into the modelling industry may feel like they're not model material unless they have a Bella Hadid nose or Kylie Jenner lips.
The reason why things like nose contouring exist on such a large scale is because of more and more celebs opting to go under the knife, all for an idealistic nose. If they didn't promote such things, no one would give a damn about what their nose looks like.
So here's what fashion brands and designers should do – say no to models who have worked on their body using unnatural methods. Let your brand be represented by a real woman. Having said all that, I think the industry is heading in atleast a slightly positive direction. What with models like Ashley Graham, who's plus size and Winnie Harlow, who has vitiligo, walking for designer shows in fashion weeks. Dear modelling industry, please give us more real women we can actually look up to. Show us women with flaws and imperfections. We're sick of seeing plastic bodies being worshiped.
And for anyone who's feeling like they're not good enough or don't have these 'perfect' features, beauty only lasts for so long. But your personality and intellect won't ever fade. So why not work on that instead?
So that was all about Bella Hadid surgery and other models with nose jobs. What are your thoughts on models who have had plastic surgery? Tell us what you think about the Bella Hadid surgery issue by tweeting @shilpa1ahuja.
Also read:
– #UnFairAndLovely? Why, Of Course I am!
– Why Do I Have to Be Judged?
– Independent Woman: Why Every Woman Needs to be her own Knight in a Shining Armour
– Met Gala 2018: The Best & Worst of Met Ball Celebrity Fashion
Nishita is a Staff Writer/ Journalist at ShilpaAhuja.com. She is a graduate of National Institute of Fashion Technology and has a degree in leather design. A lover of all things fashion, she writes about everything from beauty, hair and lifestyle to fashion trends and how-to's. Her area of expertise is outfit ideas but being fresh out of college, she also loves writing about college fashion. Her new found love of baking is currently taking over her life, making her write about all things chocolate and easy recipes. With a flair for sketching and a great eye for detail, she's previously designed leather garments for brands like Diesel and Salsa. When she's not writing, she's busy reading extremely sappy Nicholas Spark's novels, sewing clothes and listening to some indie rock. Also super passionate about photography, she loves portraits and wildlife photography – a habit turned love that formed with the amount of traveling she did as a teenager. As a girl who grew up with books and movies like Pride & Prejudice, her love for period fashion is huge. And being curly haired, she's always on a constant hunt for solutions to problems that come with having ringlets and loves sharing them with people through her articles. For feedback and questions, email [email protected] or connect with her on twitter @ni95.