Designer, glossy and super cute, Audrey O. notebooks are sure to bring a smile to your face every time you pick them up to jot down your thoughts. Whether you need a notepad for your office desk, or a to-do lister for your home, whether you're a student, fashionista or just about anyone who appreciates art, you'll love Audrey O. notebooks.
View Designs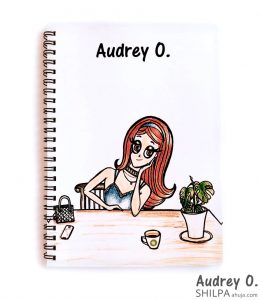 Can't view the order form? Click here. For any queries, please contact our Customer Care.
Pricing Details
Notebooks reach in 4-6 working days. Available in India.
Each notebook is ₹199.
Delivery is ₹50.
Payment through Paypal, NEFT, RTGS.
Designer Notebooks Online in India
Each notebook features a unique hand-drawn sketch of your favorite cartoon character – Audrey O. by Shilpa Ahuja. Notebooks can be shipped online in India, and ship within 4-6 working days, and are available in best prices. With 80 ruled pages (160 sides) and glossy covers, these spiral-bound pads are the artsy, funky notebooks notebooks you never knew you needed! They are fancy and perfect for any desk, and are great conversation starters!
Details & Specs:
A5 size (8.5″ x 6″)
Glossy cover and plain-white glossy back.
Vibrant designs.
Spiral-bound.
80 ruled pages (160 sides).
Colors may be slightly different than those shown in the pictures. We tried our best, but every light and camera captures colors differently.
Snow: Audrey O. Notebook
₹ 199
+ ₹50 shipping
What better way to celebrate winter season than with a cup of hot cocoa. This beautiful design features Audrey O. in a chic outfit, with crystal-studded hair. Standing in the Winter Wonderland, Audrey has found the biggest snowflake ever. And this cozy design signifies that we all are just like snowflakes – unique but beautiful in our own way.
I've Been Thinking: Audrey O. Notebook
₹ 199
+ ₹50 shipping
Funny with a deep inspirational meaning – just like Audrey O. comics! This design has Coco playing a board game (can you guess which one?) with Audrey. And no points for guessing who's winning! So if you're having a day of self-doubt, take some time out and have a cup of tea in this mug. And you'll realize that not all days are winners, but we gotta keep going on!
Fall Leaves: Audrey O. Notebook
₹ 199
+ ₹50 shipping
Retro inspired, Audrey O.'s style is from the pre-internet era. The era when everything used to be slower, less anxiety-inducing. And that's why this relaxation themed mug is perfect for those who like their coffee time to be peaceful me-time. The design features with the original Shilpa Ahuja quote, "Pause life before it runs by you," on the backside. Coasters to be bought separately. Please find their details and order them here.
You may also like: