Inspired by English Gardens, the Alexander McQueen Spring 2018 collection kept it bold, edgy and deconstructed in summery pastels.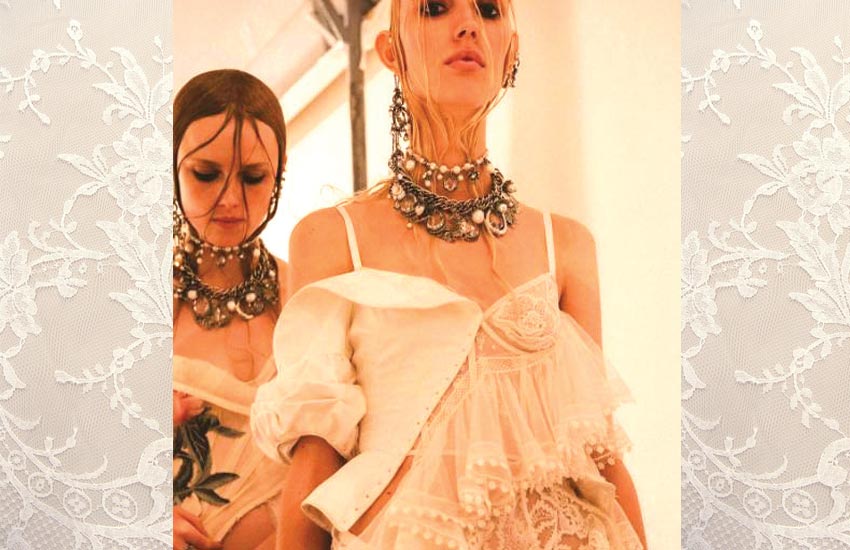 Alexander McQueen showcased their SS18 collection at Paris Fashion Week in true McQueen style. Quirky and edgy with punk details, this collection was everything you would expect it to be. The set of the runway was incredibly beautiful. It had brightly colored geometric structures with pretty floral embroidered tulle fabrics over them.
The Alexander McQueen Spring 2018 collection is inspired by couture pieces and the English gardens of Great Dixter. In the words of the designer, Sarah Jane Burton, "Drenched in rain, warmed by sunlight, her wardrobe consists of long-cherished, worn-and-torn couture inspired pieces and bespoke men's tailoring, deconstructed and reconstructed: reclaimed".
The show opened with deconstructed trench coats with silk jacquard panels that gave way to ruffled sheer dresses with 50s lingerie details. They were followed by off-shoulder leather jackets, dresses with knotted belts and metallic jackets with appliqué work. There were also lots of looks that had an inside-out effect going on. We saw corsets over one side of gowns and dresses. The asymmetrical aspect is what made the collection so interesting. There were also prints like houndstooth, plaid, gingham and floral found in various looks.
Accessories played a major role in the collection and they really amped up the edge factor. Choker necklaces, mismatched earrings, cuff bracelets, statement rings and box clutches were popular elements. The edginess wasn't compromised in terms of hair and makeup either, which was similar to last season's beauty looks. The hairdo was a slick wet hair look with no amount of volume, tucked into chokers. Some strands were left across the front of the face while the rest was tucked in at the back of the neck. And the makeup is a smudgy and smokey eye paired with a nude lip.
I really enjoyed watching this dramatic look as it came down the runway. It consists of a taffeta gown with a huge slit and a deconstructed corset bodice. It also has delicate floral appliqué and is paired with black formal trousers. It's accessorized with layered neck pieces with pearl and ornamental charms, mismatched earrings and black buckled biker boots.


Alexander McQueen Spring 2018 Collection: Gallery
Image Credits: Alexander McQueen
Nishita is a Staff Writer/ Journalist at ShilpaAhuja.com. She is a graduate of National Institute of Fashion Technology and has a degree in leather design. A lover of all things fashion, she writes about everything from beauty, hair and lifestyle to fashion trends and how-to's. Her area of expertise is outfit ideas but being fresh out of college, she also loves writing about college fashion. Her new found love of baking is currently taking over her life, making her write about all things chocolate and easy recipes. With a flair for sketching and a great eye for detail, she's previously designed leather garments for brands like Diesel and Salsa. When she's not writing, she's busy reading extremely sappy Nicholas Spark's novels, sewing clothes and listening to some indie rock. Also super passionate about photography, she loves portraits and wildlife photography – a habit turned love that formed with the amount of traveling she did as a teenager. As a girl who grew up with books and movies like Pride & Prejudice, her love for period fashion is huge. And being curly haired, she's always on a constant hunt for solutions to problems that come with having ringlets and loves sharing them with people through her articles. For feedback and questions, email [email protected] or connect with her on twitter @ni95.