Add more beauty to your hands with acrylic nails. From different colored acrylic nail ideas to how to do them at home, here's our complete guide!
Hey beautiful! Getting those perfectly shaped nails is indeed a time-consuming task! When you are running short of time and still want your nails to express your personality, then acrylic nails are the best idea! Whether you have good long nails or shorties, if you want to make them look prettier acrylic nail ideas are for every nail art lover. From different acrylic nail color ideas to seasonal acrylic nails to how to do them at home, we've covered it all!
Acrylic Nail Color Ideas
Acrylic nails add a natural length to the existing nails and bring out your creative side while making them look more attractive. There'a lot to choose from in our list of acrylic nail ideas. Be it any occasion you can have the perf nails complementing your outfit.
You can either match the fake nails with the color of the outfit or go contrast! Colors like grey, ivory, tan, white are good for your regular days and on special occasions, it's all up to you to play around with the acrylic nail designs, be it glitter or rhinestones.
Cute Acrylic Nail Designs by Color
While millions of acrylic nail designs are available, choose the one that attracts you and make it your go-to nail design.  Check out the acrylic nail designs by color below!
Pink Fake Nails
Hot pink, rose, fuschia and blush are the best shades of pink to adorn on a daily basis. You can just pick the acrylic nails with the single shade of pink and you can add rhinestones or sparkles on them to make them look more attractive.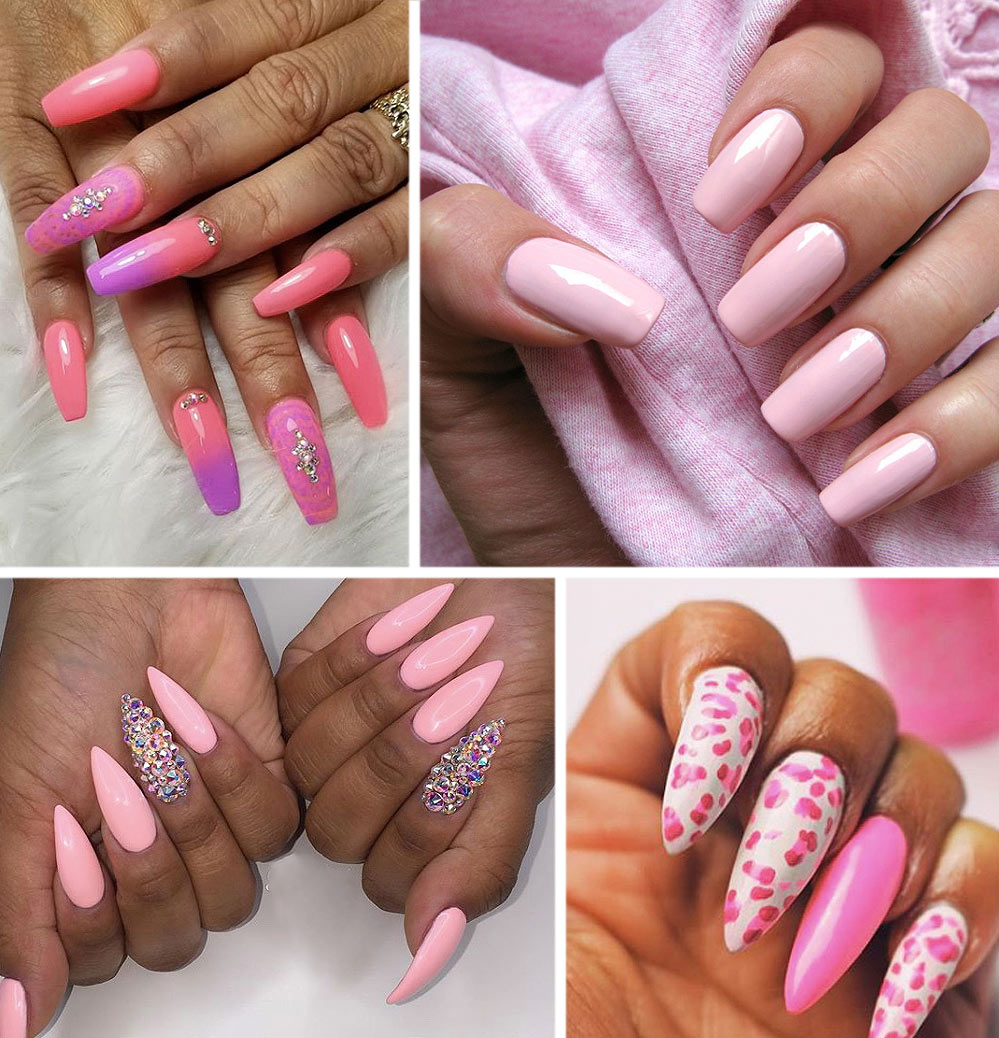 Red Acrylic Nails
A must try for romantic date nights, anniversaries or prom parties! It's always better to buy the nude or plain acrylic nails so that you can be creative and do your own nail art on them. It is also a good hobby to start with! While colors like red, black, etc. are so evergreen that they go with almost all the outfits. Try shades of red like scarlet, lava and raspberry so that they match both party and casual outfits!
Metallic Acrylic Nails
From clothing to accessories to lip color, metallics are all over the fashion trends and sure enough, we're seeing them in the acrylic nail ideas too! Pamper your nails with metallic colors to get that royal look. Try a metallic color on one of the nails and go for matte finished nail paint on the others. Or if you wanna really show off these glam nail trends, then go for metallic colors on all the nails!
Also read: How to Wear Metallic Shoes for Every Occasion
Clear Acrylic Nails
There are multiple options to try in clear acrylic nails. You can either go for the crystal clear acrylic nails without any nail art on them. Or you can try the aquarium print ones or glossy ones with glitter on them.
Nude Acrylic Nails
Nude acrylic nails are exactly the color of your nails but you be creative with them to make them look more interesting. Nude french tips, nude acrylic nails with a glittery finish or nude nails with silver rhinestones here and there are best ideas for nude acrylic nails. Perf for office ladies! Also, try nude shades like pumice, sand, coffee, mocha and beige.
Also check out: What to Wear to Work in Winter | 7 Easy Winter Outfits for Office
Rose Gold Acrylic Nails
Match the color of your iPhone to the nails. The rose gold iPhone has made this color become even popular! From dresses to shoes to lipstick, and now on nails, rose gold color is not going out of fashion.
Grey Acrylic Nails
Grey is a classy color that looks good with both casual and formal wear. When you have a series of events both at the office and at home, go for grey acrylic nails as they can be paired with most of the outfits. You can make them peppier by coloring just one nail in a bright color like rose pink, burgundy, etc.
Alo read: Best Burgundy Nails: 45 Nail Designs for Different Shapes & Shopping Ideas
French Acrylic Nails
Be it any shape of nails – stiletto, almond, square or oval, french tips look well on all nail shapes. Go for lighter nail paint like peach, ivory, cream, snow, etc. From just at the nail tips to a little bit deeper, french tips size may vary. Acrylic nail ideas for party look include tiny floral designs on one of the nails or crystals at the nail cuticles.
Acrylic Nail Ideas for Every Season
While acrylic nail designs suit every occasion and help us make our nails beautiful, you can go for acrylic nails according to the season too. So, let your nails do the talking about what season it is!
Acrylic Nail Designs for Fall
Fall leaf colors are the best go-to idea for acrylic nails ideas! Shades of red, magenta, yellow, orange, pink and brown are some of the colors when you're going for fall acrylic nail designs. Gold and white is also a fall color combination that makes you look rich and classy. Go for a leaf nail art in this color palette.
Spring Acrylic Nails
Try to go for as subtle colors as possible in the spring. Mint green, cream, lily-white, cool blue, lilac, morning sun are a few options to try for spring acrylic nails.
Shimmery Acrylic Nails
These are perf for prom nights and weddings too! You can match the nail color to your outfit color or go for colors like gold, silver and black that will upgrade your party look.
Acrylic Nail Designs for Summer
Summer is all about scorching heat, beaches, melons and mangoes. So, any bright and hyper-glossy colored acrylic nail designs are good ideas for summers. A few acrylic nail ideas for summer include yellow with an orange shade, nail art with melons on it and yeah don't forget the tan-colored acrylic nails. Red, robin blue, coral, fuschia and purple are also good ideas.
Read: BBQ Outfits: What to Wear to a Summer Barbecue Party
Christmas Acrylic Nail Designs
When Christmas is around the corner, you want all the things around you to be Christmasy. Then why not the nails! Pamper your nails with the snowflakes, Santa or reindeer nail art. If you don't want acrylic nail art then just go for colors like red, green and white!
Also read: Snow Nail Art: The Prettiest Winter Nail Designs for 2017!
Acrylic Nail Art
When you don't want your nails to be simple and plain, acrylic nail art is something that makes your nails look gorge and transform easily according to the occasion. Lace or animal prints, denim texture or cartoons are some cool ideas to try.
How to do Acrylic Nails at Home Step by Step
Now that you know how helpful and good-looking the acrylic nails are, I'm sure you would like to know how to do them at home! So, here's video to help you out.
Don't forget, if you're unsure about removing them at home, just hit the salon and get them removed professionally, otherwise, it may damage your nails.
So, these are the acrylic nail ideas! Which one do you like the most and how often to try putting the acrylic nails on? Do let us know by tweeting @shilpa1ahuja. And feel free to share your beautiful acrylic nail images @shilpaahujadotcom.
Image Credits: Instagram
Anusha Jain is a Staff Writer & SlubShop Manager at ShilpaAhuja.com. She has a diploma in Fashion Design from iNIFD and is originally from Andhra Pradesh. Before entering into the field of fashion, she got a Masters in Analytical Chemistry. Her love in fashion design, a passion in staying updated with the latest trends and zeal to do something creative paved her way to a career in fashion. Here, at Shilpaahuja.com, she works on bringing the latest in shopping ideas, fashion tips and beauty advice to SlubShop, the world's first purely trend-based affiliate store. Accessories are her expertise. Her work on SlubShop involves bringing the latest runway trends to the masses, and designing the UI/UX to make it look innovative and fresh. She is also a fitness and dieting aficionado, writing about bringing the latest in the world of wellness and health. When she's not writing she loves to travel, watch movies and also she is interested in photography, using herself as a muse. For feedback and questions, email [email protected] or connect with her on Twitter @Anushajain14.