From Britney Spears' iconic fashion to the Spice Girls' eccentric looks, here are 8 ideas for 90s theme party outfits for decade day!
Hey gorgeous! Decade day at school? Going to a Halloween or fancy dress competition? Or are you wondering how to dress up for a 90s party? Our list of iconic throwback outfits will make you stand out wherever you go! From celebrities' 90s style clothes to fictional character fashion, there can be endless ideas for 90s theme party outfits! We've chosen the best of nineties fashion and DIY costumes to give you ideas for a 90s themed party. So, here are 8 90s outfit ideas that you can rock! What's more, you can even wear some of these casually whenever you're feeling nostalgic about the 90s!
90s Theme Party Outfits
1. Britney Spears Costume
If I ever got to go to a 90s theme party (somebody please throw one and invite me), this would be the 90s look I would go for. It's Britney Spears-inspired for crying out loud! One of the most fashion-forward and daring 90s icons, her outfit in the Baby One More Time music video will forever be remembered.
All you need for this DIY 90s costume is a pleated mini skirt, a plain white button up shirt that's knotted at the waist and knee-high socks and you're done! For the hairstyle, braid your hair on either side and wrap pink scrunchies at the top of the braids.
2. 90s Grunge Look
The grunge subculture played a major and defining role in nineties fashion. Be inspired by the fashion and style of celebs like Drew Barrymore and Kate Moss to create your own 90s theme party outfits. Distressed or frayed denims were a grunge lover's staple. Pair denim shorts or skirts with sheer crop tops to create sexy 90s club outfits. Add an oversized leather jacket or flannel shirt. Complete your nineties grunge party outfit with a pair of combat boots! You could also add on a pair of fishnet stockings or ripped tights. Go for dark lips and dark eyes to complement the outfit.
90s grunge hair
was big and wild so add a lot of volume to the hair or go for the greasy, wavy, careless look. This decade day look would also be a great idea for 90s Halloween costumes.
3. Clueless Cher and Dionne Costume
One of my favorite and fashionable 90s characters is Cher Horowitz from Clueless. From the plaid skirt-suits to the stylish berets, her preppy sense of style is the perfect 90s theme party outfit idea. You could opt for a matching yellow skirt suit like Cher's or go for Dionne's (which is a better idea 'cause chances are, someone else's dressed up as Cher!) black and white one. Accessorize with a pair of Mary Jane shoes, a beret and a mini bag. You could also carry a flip phone as an accessory! You could also try this as a Clueless Halloween costume.
4. Carrie Bradshaw 90s Outfit Idea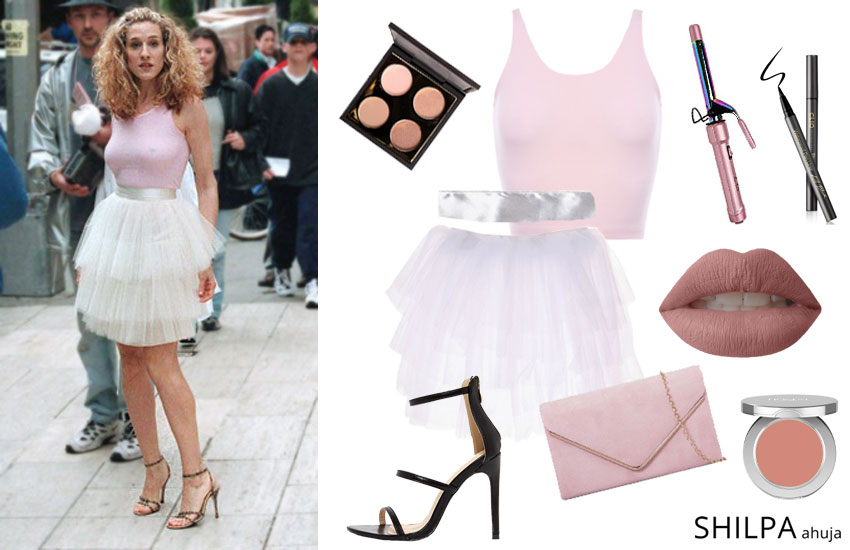 Who wouldn't wanna go to a 90s themed party dressed as the most stylish fictional character of the nineties? One of Carrie's most recognizable looks would have to be her outfit from the Sex and the City theme song. Wear a pastel pink tank top tucked into a layered tutu skirt. Add a silver belt or sash around the waist and a pair of strappy high-heeled sandals. Carry a clutch bag reminiscent of nineties styles that matches the top and you're pretty much done! And oh! How can we forget her pretty curls? Wild ringlets with lots of volume are the key to achieving the Carrie Bradshaw hairstyle.
5. Gwen Stefani 90s Party Look
Gwen Stefani was the pioneer of lots of 90s fads like fingerless gloves, spiky hairstyles and face jewels. So why not bring them back?! For this bold 90s attire, pair printed wide leg pants with a bralette worn over a cropped mesh top. Broad belts over pants that didn't even have any belt loops were Gwen's thing. She also made sure to always have both hands accessorized either with stacked bracelets or fingerless gloves. Crazy colored hair like blue or purple and shimmery makeup will make you instantly recognizable at a 90s theme party. Don't forget to add burgundy lips!
6. Pretty Woman Outfit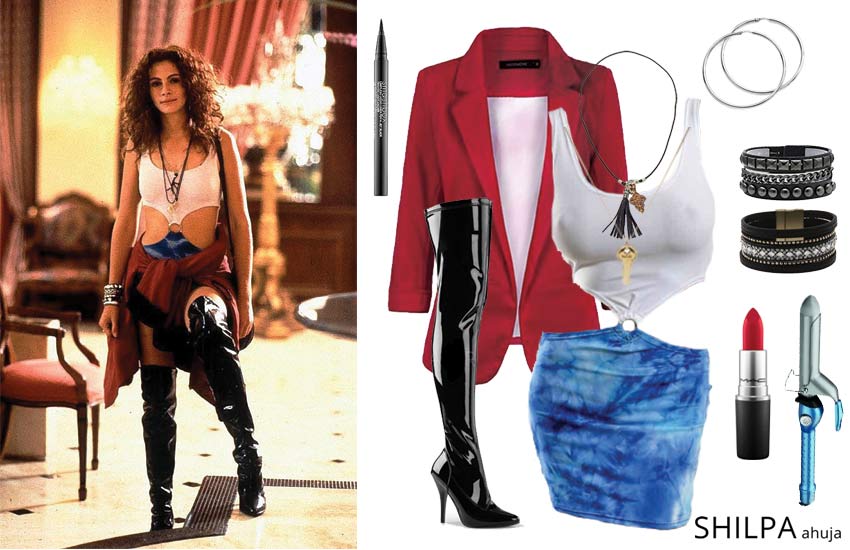 Here's another one of our iconic 90s day outfit ideas – Vivian from Pretty Woman. A white and blue dress with side cut-outs with a red jacket tied around the waist. This is one of the 90s themed costumes that's a bit hard to find but you could always DIY it with a white tank top and blue tie and dye mini skirt. Pair it with thigh-high PVC boots and long pendant necklaces and you're good to go! You can also go ahead and add a blonde fringed bob wig.
Also read: 1990s Movies: 36 Must-Watch Popular and Best 90s Movies!
7. Spice Girls 90s Theme Party Look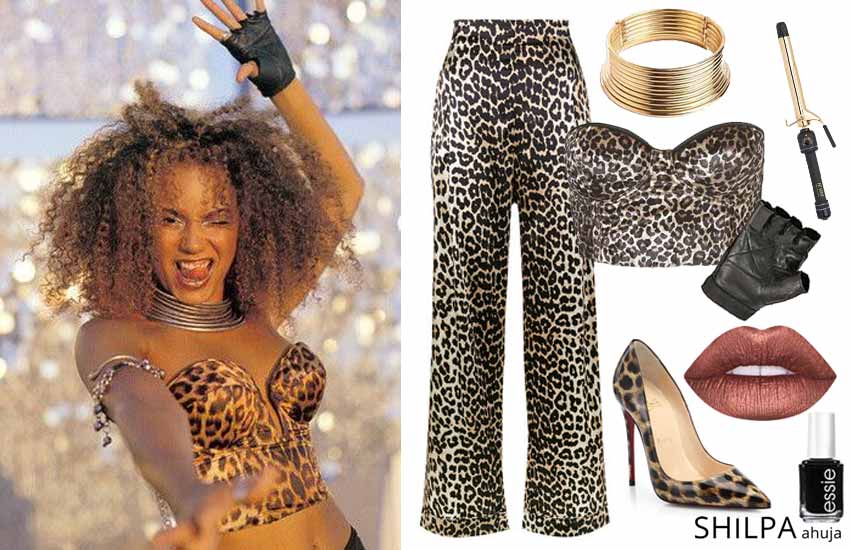 Mel B aka Scary Spice had the most unique style out of them all. We love all her cheetah print 90s outfits that she wore onstage and off. Choose a pair of flared high-waisted pants with, of course, cheetah print on it. Pair it with a matching print bralette, bra or body suit. As for the hair, go for tight curls and a zig-zag part. Add matching 90s dress shoes. Put on some hair and body glitter and hello Scary Spice!!
8. Rachel Green 90s Party Outfit Idea
If you wanna look like this stylish character from Friends, just pair a black A-line mini skirt with tights and a half-sleeved turtleneck. This is what what the stylish people wore in the 90s! Accessorize with pearl bracelets and drop earrings and chunky heeled shoes. And of course, the Rachel Green costume isn't complete without her famous brown 90s lipstick!
So those were our top ideas for 90s theme party outfits! Which of these iconic 90s outfits are you gonna pick for you next party? Let us know by tweeting @shilpa1ahuja! 😀
Also check out:
– The complete guide to 90s fashion, clothing, accessories, makeup & more…
– 11 90s fashion trends that are making a comeback!
– 90s jewelry trends – what's back and what's not!
– 90s men's fashion – hip-hop, punk, rock and other 90s men's trends
– Who were the original 90s supermodels?
– Grunge Style: How to Do 90s Grunge Fashion
Nishita is a Staff Writer/ Journalist at ShilpaAhuja.com. She is a graduate of National Institute of Fashion Technology and has a degree in leather design. A lover of all things fashion, she writes about everything from beauty, hair and lifestyle to fashion trends and how-to's. Her area of expertise is outfit ideas but being fresh out of college, she also loves writing about college fashion. Her new found love of baking is currently taking over her life, making her write about all things chocolate and easy recipes. With a flair for sketching and a great eye for detail, she's previously designed leather garments for brands like Diesel and Salsa. When she's not writing, she's busy reading extremely sappy Nicholas Spark's novels, sewing clothes and listening to some indie rock. Also super passionate about photography, she loves portraits and wildlife photography – a habit turned love that formed with the amount of traveling she did as a teenager. As a girl who grew up with books and movies like Pride & Prejudice, her love for period fashion is huge. And being curly haired, she's always on a constant hunt for solutions to problems that come with having ringlets and loves sharing them with people through her articles. For feedback and questions, email [email protected] or connect with her on twitter @ni95.