From daytime to nighttime, here are five gorgeous 90s lipstick shades to suit every occasion and look like a 90s goddess!
Hey gorgeous! The brown toned lipsticks from the 90s are making a serious comeback! Ever since Jennifer Aniston revealed the exact famous lipstick shade she used to wear in Friends (Yes, MAC still sells it!), I've been noticing more and more 90s lip colors on celebs all over Instagram and also on my own friends who are trying out this trend that was all the rage over two decades ago.
Is 90s fashion making a comeback already? God, I feel old! Even Shilpa tried out a pretty pinkish-brown 90s lipstick color from her mom (top image).
No matter what the occasion, there's so many 90s lipstick shades to choose from this season. Let's have a look at them!
90s Lipstick Colors to Try Out This Fall
1. Chocolatey Brown
This particular shade of brown has 90s written all over it. It was made super popular by Jennifer Aniston after she donned a pretty chocolatey brown lip in the first couple of seasons of Friends. Of late, celebs like Gigi Hadid and Kendall Jenner have been trying to revive this Rachel Green look from 90s makeup.
This color works great for both daytime and nighttime. So try brown lips this season and match 'em up with your leather jackets and wool coats! The Rachel Green lipstick would also be the perfect shade to go with 90s theme party outfits because it's instantly recognizable!
2. Scarlet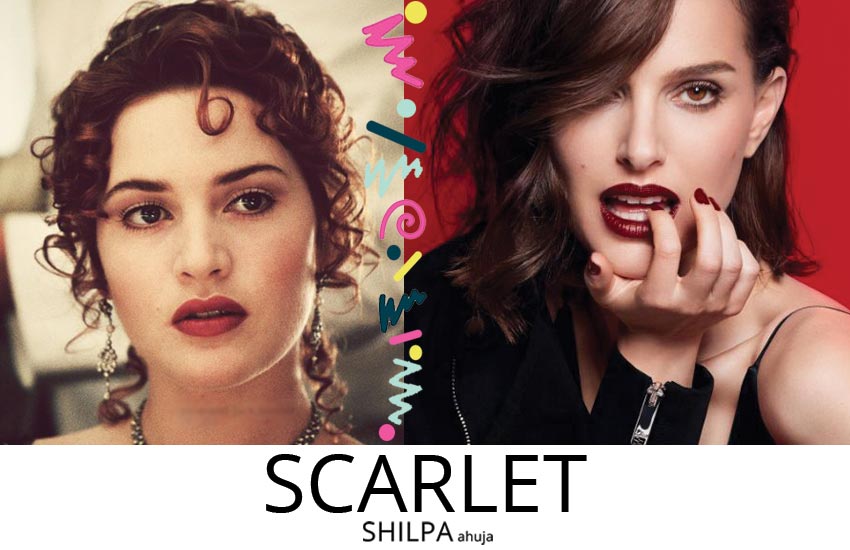 We're adoring Kate Winslet's red matte lip from one of the 90s superhit movies, Titanic. Add drama to your night out outfit with this sexy 90s lipstick shade, which is a definite must have for every girl's makeup bag. It's the sort of red that would suit almost all skin tones.
I personally am in love with this shade of red. Kate Winslet wore it as Rose for Titanic in the ever-so-famous staircase scene. In terms of more recent times, Natalie Portman wore this badass fall lipstick color for a Dior makeup campaign. This 90s lipstick shade is best worn with lipliner and if you wanna take it to a party, add some gloss!
3. Nude Brown
Do you prefer to keep things soft and simple? If so, here's a trendy lipstick shade to try out this fall! It is the go-to everyday lipstick for a natural color. It's neither as basic as a regular nude and nor over-the-top like a bold color, it's a perfect in-between fall lipstick shade. Britney Spears's iconic look from the Baby One More Time music video is enough reason to give this lipstick a go! Even Kylie Jenner wore it on a recent shoot for GQ.
5. Rich Dark Brown
If you're up for a daring look, this is the shade to go for. It will draw attention to your lips and make you stand out no matter where you go! This bold 90s lipstick color is not for everyday but would look amazing at parties or night outs, paired with minimal eye makeup. From Drew Barrymore in the 90s to 2017 with Kylie Jenner rocking this fall lipstick trend, this brown lipstick shade is definitely one to give a try.
6. Pinky Brown
A nude lipstick is everybody's all time favorite. It is ideal for a casual daytime outing. For nighttime, teamed with a smokey eye, this subtle lip color will make you look effortlessly glam. Carrie Bradshaw from Sex and the City wore this shade multiple times and more lately, Kendall Jenner looked stunning sporting this lipstick trend. This would look perfect on a casual date worn with a black slip dress and booties. Add a leather jacket and you're good to go!
90s Lipstick Colors to Try this Season
From rich mahogany to lighter puce, from warm ginger to mysterious cedar, here are the exact 90s lipstick shades to try this winter. Mahogany would be perfect for parties, and especially as a Christmas or New Year shade. The other 90s lipstick colors  would be perfect both casually and formally. Try them as glossy or matte lipstick – either would work well.
So, those were the latest fall lipstick trends inspired by the 90s! Hope you liked them and if you do try any of them out, do show us by tagging us @shilpaahujadotcom on Instagram and we'll surely like it! 😀
Also check out:
– All you need to know about original 90s supermodels
– 90s fashion, clothing, accessories and celeb style from the nineties
– 90s fashion trends: 90s are back with these 11 throwback styles
– The most popular 90s hairstyles 
– 90s jewelry trends – especially those that are back!
– Grunge Style & how to do 90s grunge fashion
– All about 90s men's fashion
Nishita is a Staff Writer/ Journalist at ShilpaAhuja.com. She is a graduate of National Institute of Fashion Technology and has a degree in leather design. A lover of all things fashion, she writes about everything from beauty, hair and lifestyle to fashion trends and how-to's. Her area of expertise is outfit ideas but being fresh out of college, she also loves writing about college fashion. Her new found love of baking is currently taking over her life, making her write about all things chocolate and easy recipes. With a flair for sketching and a great eye for detail, she's previously designed leather garments for brands like Diesel and Salsa. When she's not writing, she's busy reading extremely sappy Nicholas Spark's novels, sewing clothes and listening to some indie rock. Also super passionate about photography, she loves portraits and wildlife photography – a habit turned love that formed with the amount of traveling she did as a teenager. As a girl who grew up with books and movies like Pride & Prejudice, her love for period fashion is huge. And being curly haired, she's always on a constant hunt for solutions to problems that come with having ringlets and loves sharing them with people through her articles. For feedback and questions, email [email protected] or connect with her on twitter @ni95.