From the striking big hair to the Rachel haircut, the 90s was an era of experimentation! Here's all you need to know about 90s hairstyles!
Hey gorgeous! After working on the 90s series articles, it's almost like I'm living in the 90s! Yeah, who wouldn't want to travel back in time?! So, we look upon the 90s fashion trends for style inspiration. And a few of them are making a comeback! The hairstyles were certainly super stylish, practical and wild, too! So, let's check out the most iconic hairstyle trends from the 90s!
90s Womens Hairstyles
1. 90s Big Hair
The voluminous wavy hair look was one of the most popular 90s hairstyles! Also, the frizzy carefree hairstyle was the highlight of the 90s. Perhaps, girls back then wanted to look wild all the time! From Cindy Crawford to Drew Barrymore, all the popular stars sported the big hair. It was a common sight to see in the 90s along with jeans and plain tees!
2. The Rachel Haircut
Jennifer Aniston's hairstyle in the first season of the sitcom, Friends, became hugely popular. Basically, it's a bouncy, layered long bob. Although she changed her hairstyle in the third season, the one remained popular throughout 90s! Women are still sporting the Rachel haircut even today!  Also, the long hair with front layers in the later seasons of the show was quite favored look!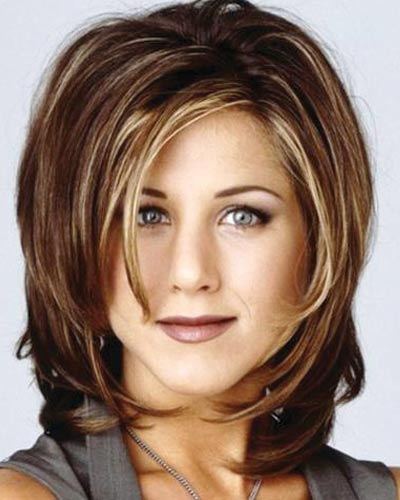 3. Straight Natural Hairstyles
The 80s perm gave way to the naturally straight hair look in the nineties. It was one of the most casually sported 90s long hairstyle! From Britney Spears to Kate Moss to Naomi Campbell, lots of celebs donned the straight natural hair look. Unlike, the present sleek and straight look, the 90s straight hair was a bit wavy at the ends! I loved Naomi Campbell's  look! Simple and neat. From light brown to blonde to jet black hair, this style was seen on all hair colors!
4. Grunge Hairstyles
The 90s grunge hairstyles were the most famous ones! And guess what? The grunge look is back as one of the Spring Summer 2018 hair trends. The unwashed, messy, greasy hair look was in vogue in the 90s. It requires zero maintenance but personally, I'm not a fan of this hairstyle! But since its back, rock 'em! I mean who doesn't wants to let their hair go carefree?! Kate Moss and Drew Barrymore rocked grungy hair the best.
Grunge hair was also popular amongst 90s men's hairstyles, sported by 90s icons like Johnny Depp!
Also check out: 90s Grunge Fashion: How to Do 90s Grunge Fashion
5. The Pin Up Girl Hair
The oversized voluminous curls added the drama yet gave an elegant look to long hair. We saw flawless side-swept pin up girl waves on 90s supermodels like Cindy Crawford. I'm loving the magical dark brown wavy look in Cindy's pic from an editorial shoot. This hairstyle would go perfectly with smart casuals and party wear.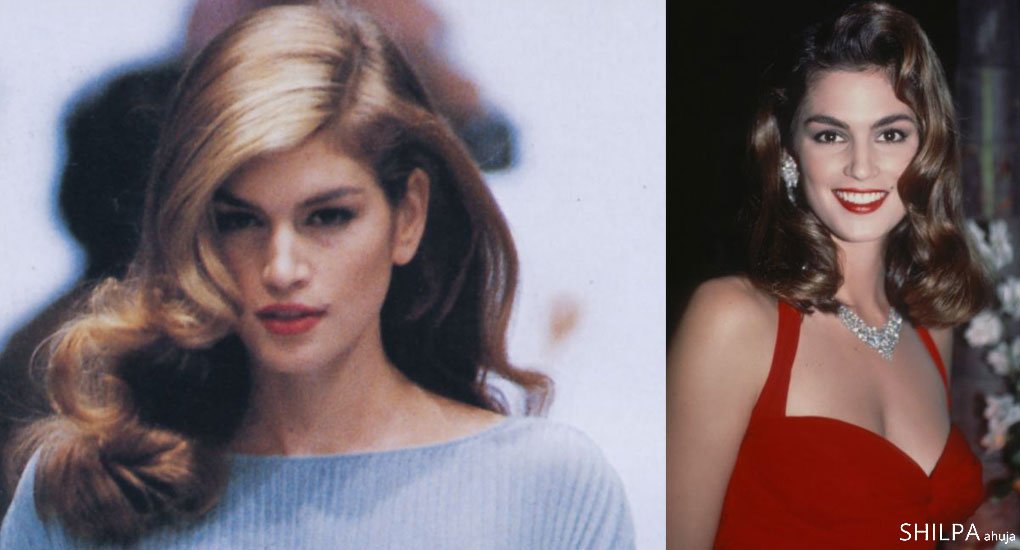 6. The Crimped Hair
So, I saw an image of Gigi Hadid with crimped hair! And I was wondering when was crimped hair popular? And yes, it's from the 90s hair trends! From Britney Spears to Tyra Banks, crimped hair ruled the 1990s hairstyles! Although this hairstyle remind me of the early man period! So big and wild 😉 I hope this hairstyle won't make a comeback ever – EVER! I mean I don't wanna spend zillion hours with crimping irons early in the morning! But hail Britney as crimped hair was her thing!
Crimped hair are to 90s what perms were to 80s. So, if you're looking for a crazy hair idea to go with your 90s theme party outfits, crimping would be perfect to try! Check out more 90s outfits for decade day here.
7. Ringlets & 90s Curly Hair
Ringlets are curls that are in the shape of elongated twirls! Sarah Jesicca Parker from Sex and the City sported the ringlets look. The blonde hair color with lowlights or dark roots gave a Barbie doll look, which was popular throughout the 90s! She sported both messy and styled looks in the series! Also, Mariah Carey sported long brunette ringlets, making this 90s curly hair fashion even more famous!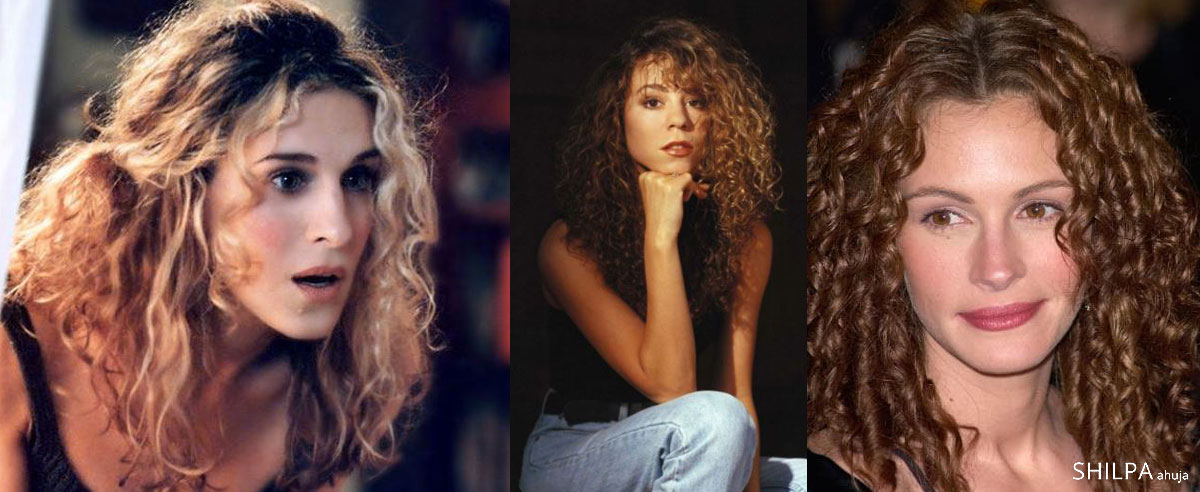 8. The Linda Haircut
The Linda haircut was popularized by the supermodel, Linda Evangelista in the 90s. Basically, it's a layered pixie and one of the most copied 90s haircuts for short hair. And it reminds me of the Beatles! Even I would love to sport this haircut! I mean so easy to maintain. But, I can't live without my long hair either! *sigh,* Problems only girls understand!
9. Rave Hairstyles & Gwen Stefani Hair
The 90s rave hairstyles are too wild to even think about! Gwen Stefani is the name that pops up when one mentions about 90s rave hairstyles. From her mini buns to striking blue hair, she has donned 'em all! Interestingly, the half up style was a big trend in the 90s. Gwyneth Paltrow's 90s updo hairstyle was also popular. She used to do a messy half bun!
10. Kelly Kapowski Hair
The American actress, Tiffani Thiessen, is famous for her role of Kelly Kapowski in a show called Save by the Bell. Kelly Kapowski is the most popular girl in the school and is a George Michael fan. So, the popular girl has the best hairstyle! Her 90s hairstyle was voluminous at the top – a side parted look.
11. 90s Bangs
The 90s bangs were thicker and fuller. They were also inspired by men's hairstyle. The voluminous fluffy bangs are something I never wanna see make a comeback. They were popular as 80s hairstyles, too, which invaded the 80s Bollywood fashion as well! Supermodel Claudia Schiffer made the parted bangs popular amongst early 90s hairstyles!
12. Hip Hop Hairstyles & 90s Braids
Janet Jackson was an inspiration for hip hop hairstyles. The box braids that are striking the internet now were a cool African American 90s hairstyle! Basically, the hair is divided into many sections and multiple thin braids are tied into a ponytail. Aaliyah braids were also quite in vogue, and Rihanna has made them famous again! Also find out more here: African Hair Braiding: Fascinating Styles & Different Types of Braids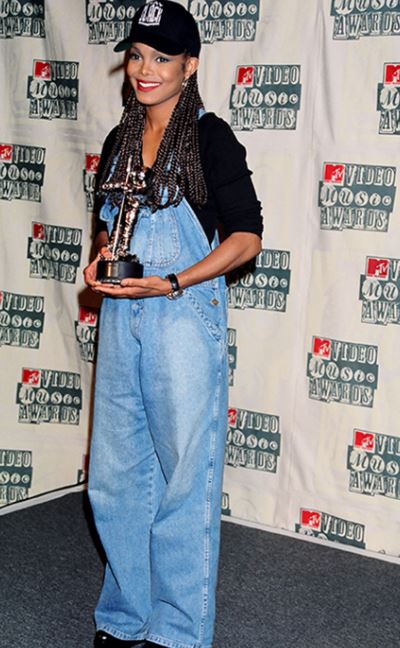 13. Celebrity Hairstyles in 1990s
90s supermodels introduced lots of cool hairstyles. Cindy Crawford's voluminous hairstyle from her Pepsi Superbond commercial was an iconic one. The soft waves with the volume defined a Superbowl look! In fact, it's an evergreen hairstyle that I would love to sport on any given day!
And the backcombed long hair with natural waves was remarkable! Geri Helliwell's big voluminous red hair with highlights, too, is noteworthy! Don't miss the eyebrows and 90s lipstick trend!
Notable 90s hairstyles for black women included braids and medium length curly hair. The Spice Girl, Melanie Brown's super wild curly hair, was also one of the most iconic 90s hairstyles!
Mariah Carey braids made up some of the most impressive nineties hairstyles. She tied her hair into thin braids on the top with curly hair at the bottom!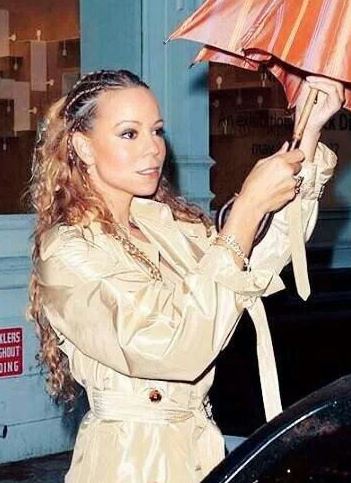 The Rachel Green haircut sported by Jennifer Aniston in Friends was an iconic hairstyle of the 90s! Check out point #2 above for more about the Rachel hair!
Gwen Stefani's mini buns were one of the craziest 90s hairstyles for straight hair! Of course the Spice girl, Mel B, too sported them. Check out the zig zag partition!
People wanted to experiment a lot in the 90s. We're seeing a polished version of this hairstyle now! From Kendall Jenner to Rihanna, they are rocking 'em! Also, check out the eye catching Gwen's hair in blue.
90s Hairstyles for Men
Curtain Cut & Floppy Hair
The floppy hair was one of the popular hairstyles in 90s. It was sported by Leonardo DiCaprio in Titanic. He also made curtained hair famous. If Leo wasn't enough, Johnny Depp and David Beckham, too, sported the curtain hair in the early 90s. And how can we forget Nick Carter from Backstreet Boys with this haircut!
Also read: 1990s Movies: 36 Must-Watch Popular and Best 90s Movies!
Mc Hammer Haircut
The Mc Hammer haircut was definitely one of the trendiest 90s male hairstyles. The high top gradient haircut was sported by Will Smith in The Fresh Prince of Bel-Air. This stylish haircut became the most sought after in black men fashion!
Boy Band Haircut
Center-parted hair was a rage amongst men of the 90s! Other than Nick Carter's boy band curtain hair, we also saw short curly hair with highlights. Justin Timberlake made this style popular.
George Michael Hairstyle
The heartthrob of the 80s and 90s, George Michael had voluminous backcombed hair that was drool-worthy! Additionally, you can check out Steve's hairstyle in the Netflix show Stranger Things that resembles the hairstyle!
So, did you like our guide to the 90s hairstyles? Which trend did you like the most? Also, let us know all your thoughts on the women's 90s hairstyles by tagging us @shilpa1ahuja on Twitter!
Also check out:
– All About 90s Fashion: Iconic 1990s Celeb Trends, 90s Clothing, Makeup & All
– A Guide to 90s Jewelry Styles
– 90s Fashion Trends: 90s Are Back with These 11 Throwback Styles
– Who Were the Original 90s Supermodels?
– 90s Men's Fashion: Hip-Hop, Rock, Punk & More…
Sahana is a Senior Staff Writer at ShilpaAhuja.com. With an experience in fashion and lifestyle writing, Sahana is responsible for Indian and international fashion week coverage every year, and is developing an expertise in apparel trend forecasting. She also writes about health and fitness, having pursued yoga for 6 years now. She's not a gym person at all but is all for "running in the park" and is an amateur cyclist. Books and coffee are her other passions. She's also an amateur photographer. She's a hardcore Bollywood fan and she loves to cover the nostalgic topics on the same. From fashion trends to famous characters, she can make anyone love Bollywood! Her best article has been 90s Bollywood fashion, a readers' favorite so far! Prior to her experience with ShilpaAhuja.com, Sahana has written as a freelance author for online magazine, Mashup Corner, and interned at EventsHigh as a content writer. Her blogs on basic fashion, makeup, fitness and city's food joints that gave her a chance to experiment with her writing. She also has voiced her opinions about feminism and equal rights for men and women at PolkaCafe journals and after quitting her job, she decided to take up writing as her full time career.
Sahana is an engineering graduate and has worked in an MNC, Tesco, for more than a year as an Operations Support. It was her sheer love for fashion that made her quit the monotonous 9 to 5 job to pursue a career in the fashion industry. She's originally from Bangalore and is currently settled in Chennai (she's loving the city)! For any queries and discussions, contact her at [email protected]. You can also tweet her at https://twitter.com/Sahana_17