Hey gorgeous! The world of temporary tattoos was earlier confined to spring concerts and gold and silver gypsy designs. But latest temporary tattoo trends are changing the way we think about them.
I have been looking at many artists' work on Instagram and on their websites and I found a single trend that stood out in common. The new trend is that ink artists are coming up with small, minimal designs that any art lover can get, who wants to display a thought or bit of their personality on their body without the lifelong commitment.
No longer the cliched mandala and hippie armlets, temporary tattoos are now coming in some pretty neat designs. (My featured image now seems misleading, huh!?) So from pop culture to science inspired, let's take a look at the latest temporary tattoo trends!
9 Temporary Tattoo Trends You Gotta Check Out
1. Realistic Temporary Tattoos
Tattoos that look real – that may become wish fulfillment for us ink lovers who just can't commit but want a "proper" tattoo! If they don't hurt, I can consider one. Temporary tattoos last for 3-14 days, if that's not too much commitment for you, go for it!! This particular one is a barcode tattoo, which signifies the wearer's lack of the belief that they're unique among many. Barcode tattoos signify considering oneself as a commodity. As a second meaning, it can also be a nod to the growing consumerism and big company culture that treats everyone as a number. Honestly, I don't like the barcode idea.
2. Science-y Tattoos
This one's a cross between inspirational and science-y themes. To the unknowing, this may just seem like the chemical structure of any other molecule, but it's actually serotonin. It's also known as the happiness molecule. While low serotonin is linked to depression, high serotonin in our body contributes to our happiness and good mood!
3. Self-Love
Self love and inspirational tattoos are nothing new in the permanent ink world, but these tiny realistic looking tats are now also for our temporary interests! When you don't have to worry about a quote you'll love forever, or tattoo removal information, temporary tattoos are the best idea to go for!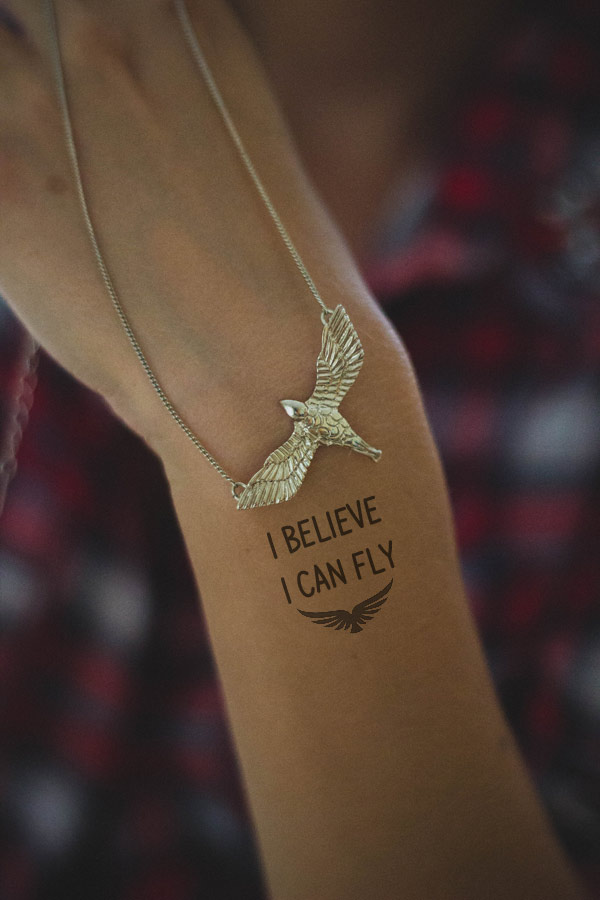 4. Food and Drink Minimals
Minimalist tattoos are the general trend right now, like lines and symbols. And if one can just represent our favorite drink, that'd be great. Oh wait, there you go. Photoshopped it for you!
5. Temporary Couple Tattoos
Convinced your soulmate is just a summer fling? Well, then this ones for you!! Although the tattoos in my image say "Always" so that sounds hypocritical. Oh, well!
6a. Pop Culture: Harry Potter/ Wizarding World
Not that Harry Potter fandom cannot be permanent, but at least if you wanna show a temporary love for a particular theory, aspect, character or what not, these temporary tattoos are gonna be the perf choice! Here's a Deathly Hallows one, for our upcoming Fantastic Beasts: Crimes of Grindelwald screening!
And here's a Dark Mark tattoo, which I'd like, even though I'm a Gryffindor, but I'm sure Voldemort can find a place for me in his ranks. #DeathEaterForADay
6b. Pop Culture: Riverdale
The second pop culture fandom that's gaining popularity in the temporary tattoo world is Riverdale. If you're a fan of the girly TV series revolving around Archie comic characters, you can show your love with a Jughead crown/beanie. Or a Pop's sign!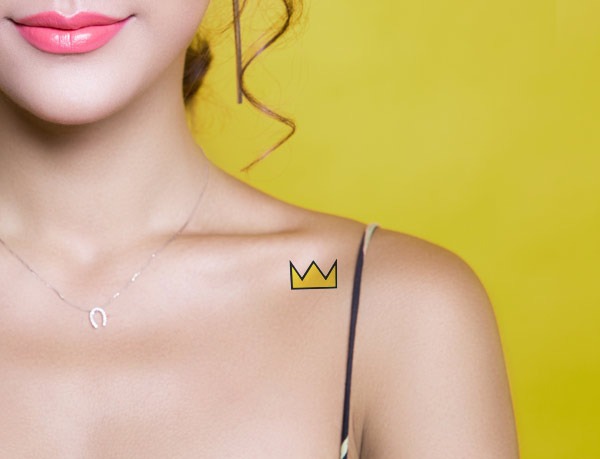 7. DNA Tattoos
DNA tattoos have been gaining more and more popularity lately. They can mean a couple of things. Individuality is one meaning, like we all have unique DNA and that's what defines us and our "essence," so to say. Another meaning of DNA tattoo is life, and the experience of being alive. One of the things that differentiate us from non-living things, is our possession of DNA, I guess that sounds unromantic, but that's what it is.
Broken DNA strand tattoos are also a thing, like this one. DNA usually self-repair, but damaged DNA isn't a good thing in the body. It is linked to health issues such as cancer, so this is a dark tattoo choice unless you're fighting a disease.
8. Simple Geometric Tattoos
Black and white is the general cool trend in temporary tattoos these day. And geometric tattoos are mostly getting small, and very minimal. This yin and yang one is all about neat symmetry!
9. Stencil Text Tattoos
Personally, I'm loving these over the cheesy flowery fonts that most tattoos are written in. Ugh, so cliched. So go for this simplistic stencil font to get the work of your choice inked on your shoulder or wrist!
I do have another one trend to talk about, but I'm just gonna suffice its absence here with three well-thought of excuses/points: 1. I wrote the title as "9 Temporary Tattoo Trends, blah, blah, blabbity, blah". 2. I haven't Photoshopped its image yet [Yes, these are all Photoshopped tattoos, muhahaha (Don't worry it's free to use/edit images)]. And 3. I'm very sick today so let's just cut me some slack and read the seven hundred ninenty nine words I've written up to the point. Oh it's Eight-oh-one now.
Anyway, hope my points have convinced you why we should have a whole new post next time for just one trend. I assure you it'll be worth it. Whenever I get time to write it, between our fashion forecasts for Spring 2019 and so many other content I've planned for this month! And the next! And the next to next…!
So did you like these new temporary tattoo trends? Which one are you thinking of getting? Lemme know below! And show me your own temporary tattoo by tagging me on your Instagram pic @shilpaahujadotcom! Muaah 🙂
Shilpa Ahuja the editor-in-chief of ShilpaAhuja.com, which she founded with the goal of inspiring confidence in the modern working woman through fashion. Other than defining the direction of the magazine, she also writes about fashion & beauty trend forecasts, industry analysis, and opinions.
Shilpa's work has been published in the University of Fashion blog and Jet Airways magazine. She is also an artist, illustrator and cartoonist. She is also the creator of Audrey O., a comic series that represents the lifestyle of millennial women. She enjoys creative writing and world travel. Her art has been exhibited at Harvard Graduate School of Design and the Aroma Hotel, Chandigarh and been published in Chandigarh Times.
Originally from Chandigarh, Shilpa also has a degree in architecture and has worked in interior project management. She is also the author of the book "Designing a Chinese Cultural Center in India". Shilpa has a Masters in Design Studies degree from Harvard University.
For feedback and questions, please email [email protected]