From chiffon sarees to poofy sleeves, the 80s was the era of impeccable style and glam! Here's the iconic 80s Bollywood fashion!
Hey all! So, I'm back with yet another Bollywood article – 80s Bollywood fashion. Also, we are doing a series of Bollywood decade fashion. How cool is that?! I can't wait to start off the next decade! So, stay tuned for this Bollywood fashion series! But today, we have made a list of the trends from early and late 80s Bollywood fashion that a true Bollywood fan should know!
80s was the period where fashion was stylish and wearable! The bold colors and artsy prints from the 70s almost vanished, giving way to plain and chic outfits! But at the same time, we also saw decked up dance costumes with heavy jewelry and lots of bright colors! The era saw beautiful actresses setting new trends in Bollywood fashion. From Rekha's style to Sridevi's elegance, it was all about demure, feminine clothing!
Let's check 'em out!
Early 80s Bollywood Fashion
The 80s Bollywood fashion was elegant and natural. The bold 70s outfits gave way to wearable attire. A line was beginning to get drawn between casual clothing, decked-up wedding fashion and glittery stage-show outfits.
The early 80s had movies like Karz, Khubsoorat, Disco Dancer, Silsila and many more. Actresses like Parveen Babi and Zeenat Aman continued to adorn the era with glam yet minimalistic fashion.
But it was Rekha who ruled the early 80s in Bollywood. From Umrao Jaan to Silsila, her style was impeccable. And it was the early years of Sridevi in Bollywood movies. Makeup was simple, the dramatic winged liner had vanished and nude glossy lips prevailed!
1. Anarkalis
The 1960s inspired anarkalis from the movie Mughal-e-Azam were seen in the movie Umrao Jaan played by Rekha. This metallic gold anarkali paired with net dupatta and gold jewelry looks so gorgeous. And the red glossy red lips complement the look!
2. Glitter Costumes
Shiny costumes were the highlights of the early 80s Bollywood movies! From Parveen Babi to Rishi Kapoor, all the superstars wore the metallic outfits. But the best is the one by Mithun Chakraborty from the movie Disco Dancer! *hums I'm a disco dancer.* 😛
3. Double Braids
Wearing double braids was common in 70s and continued in the 80s Bollywood movies, too! Rekha in Khubsoorat and Sridevi in Tohfa set trends for the young women.
4. Hair Accessories
So, the 90s Bollywood fashion took inspiration from the 80s and made fun of itself by wearing exaggerated hair accessories! Compared to those, in the 80s, the hair accessories were interesting and stylish, too! Like Parveen Babi's golden headband, Zeenat Aman's beret and Sridevi's matching headband with net details!
5. Exaggerated Gold Jewelry
I'm quite impressed with early 80s Bollywood fashion! The exaggerated gold jewelry went on to be a trend in the later 90s, too. And even in the 80s, it was heavy but limited to ethnic festive songs, showing the celebrations. Also, check out the multi colored chunk of bangles that ruled until the early 90s.
6. Printed Sarees
Printed sarees made a statement back in the 80s, thanks to Bollywood fashion! From chiffon to satin silk, they all looked elegant!
7. Belted Midi Dresses
The flared pants and polka dotted shirts of the 70s gave way to feminine styles. Midi dresses became a thing of the 80s Bollywood fashion. But belted midi dresses surely were head-turners. From Tina Munim in the famous Karz to Hema Malini in Satte pe Satta, they looked as trendy as ever. And Sridevi's funny moves here shows how happy she is wearing one! And Rekha is dancing all by herself out of happiness.
8. Well-Fitted Salwar Sets
Plain well-fitted salwar sets became a rage in the early 80s. A plain salwar and kameez was paired with a printed dupatta or a waist coat. Sequin embellished ones, too, made a statement!
Late 80s Bollywood Fashion
The late 80s Bollywood fashion continued with simple makeup looks of the early 80s. It was in this part of the decade that Bollywood's quintessential chiffon sarees became more popular and some actresses made 'em their signature looks! The chiffon sarees were trendsetters in the late 80s worn by Sridevi in movies like Chandni and Mr. India. These sarees continued in the 90s, too!
It was also early years for Bollywood actresses like Madhuri Dixit and Juhi Chawla! They sported the typical village girl look in the movies. Western wear included midi skirts, jeans and cropped pants. Double braids were still fashionable. Salman Khan's leather jacket became a huge rage after he wore one in Maine Pyar Kiya!
1. Glossy Lips
Personally, I'm not a fan of the glossy lips! But lipsticks in the 80s were really glossy. Shades of pink and bold red were a hit amongst the top 80s Bollywood actresses!
2. Sultry Chiffon Sarees
Rekha and Sridevi's sexy chiffon sarees made a statement in movies like Chandni and Silsila that continued to rule in the late 90s, too! They worked perfectly for the hot, sultry songs and became a Indian fantasy attire!
3. Slouchy Tops
Loose slouchy tops were stylish in 80s Hollywood fashion, too! And even in Bollywood, this comfort clothing was a fashionable trend that's making a comeback!
4. Biker Leather Jacket
The rugged jeans and biker leather jackets became a huge trend when Salman Khan wore them in Maine Pyar Kiya! Also, check out the cool patchwork details. I feel Salman Khan was quite a stud in the late 80s. What happened to you now, Salman?
5. Midi Skirts
Midi skirts were the typical attire of young Bollywood heroines that continued in the early 90s Bollywood fashion, too! From Sridevi in Mr. India to Bhagyashree in Maine Pyar Kiya to Amala in Pushpak, the midi skirts were a common sight. They were so trendy back then, I could spot girls wearing them to wedding receptions, too, in my parents' marriage photo album!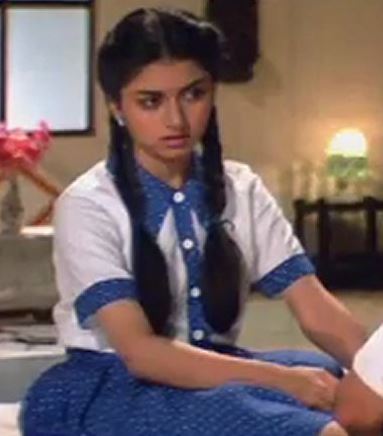 Worst 80s Fashion Moments
How can any decade be complete without worst fashion blunders in Bollywood? 80s Bollywood movies, too, had its worst moments! The 80s saw many iconic Bollywood costumes that continued in 90s, too! But we can't ignore the fact that the costumes were too funny! From shiny metallic dresses to temple style jewelry to men's flared trousers, it's hilarious to see them now!
1. Madhuri Dixit in Tezaab
Madhuri Dixit is still known for her moves in the song "ek do teen" from the movie Tezaab. I couldn't take the very obvious curly hair extensions and the shiny jewelry, but the fringes stole my attention. I love Madhuri but she had hilarious hairstyles back then. They need their own article!
2. Sridevi in Nagina
I literally ROFL seeing Sridevi like this! Those cat eye lenses, super glossy lips and matching silver jewelry. Please waste some time of yours by re-watching this movie!!
PS: I also want to meet Amrish Puri's costume designer for this movie!
3. Rekha in Khoon Bhari Maang
First of all, this movie was ahead of its time though impractical but showcased a strong women's character. The protagonist played by Rekha changes herself into a model in the second half. But she looked so funny with that haircut, super arched brows, metallic eyeshadow with metallic outfits. Staaaphhhhh! My eyes really hurt!
4. Sridevi in Himmatwala
I salute the costume designers back then. Too much creativity. Gold, gold everywhere. And check out Jeetendra's expression!
So, these were the 80s Bollywood fashion. Which one did you love the most? Do you want to see these trends to make a comeback? Let us know! Tweet us @shilpa1ahuja!
Also read:
– Bollywood Villains: Top 27 Bollywood Baddies We Love (& Fear, Too!)
–Evolution of the Bollywood Bikini: 1960s-2010s: Empowerment or Objectification?
Sahana is a Senior Staff Writer at ShilpaAhuja.com. With an experience in fashion and lifestyle writing, Sahana is responsible for Indian and international fashion week coverage every year, and is developing an expertise in apparel trend forecasting. She also writes about health and fitness, having pursued yoga for 6 years now. She's not a gym person at all but is all for "running in the park" and is an amateur cyclist. Books and coffee are her other passions. She's also an amateur photographer. She's a hardcore Bollywood fan and she loves to cover the nostalgic topics on the same. From fashion trends to famous characters, she can make anyone love Bollywood! Her best article has been 90s Bollywood fashion, a readers' favorite so far! Prior to her experience with ShilpaAhuja.com, Sahana has written as a freelance author for online magazine, Mashup Corner, and interned at EventsHigh as a content writer. Her blogs on basic fashion, makeup, fitness and city's food joints that gave her a chance to experiment with her writing. She also has voiced her opinions about feminism and equal rights for men and women at PolkaCafe journals and after quitting her job, she decided to take up writing as her full time career.
Sahana is an engineering graduate and has worked in an MNC, Tesco, for more than a year as an Operations Support. It was her sheer love for fashion that made her quit the monotonous 9 to 5 job to pursue a career in the fashion industry. She's originally from Bangalore and is currently settled in Chennai (she's loving the city)! For any queries and discussions, contact her at [email protected] You can also tweet her at https://twitter.com/Sahana_17