What did 2010s contribute to the world of fashion? From the best and worst '10s trends to the overarching themes that marked the decade, here's a definitive guide to 2010s fashion.
Fashion of 2010s: A Decade in Review
Despite being such a stylish decade, it's kind of ironic that towards the end of it, I was often left wondering whether or not the history of fashion would even remember 2010s. Well, that's because 2010s fashion was so much about being inspired by past decades. Hardly any of the fashion trends were such that had not been worn before this decade.
With countless influences coming up from the 1990s, 80s, 70s, and what not, it seemed hard to see what would be the overarching grand narrative of 2010s fashion. And now that the decade is finally over, it's time to take a look back and see what it stood for, and what it will be remembered for.
And certainly there are quite a few things to remember from 2010s, even if they weren't necessarily fashion items or styles. Let's take a look.
Diversity & Democracy in Fashion
Fashion in 2010s was first and foremost about speaking out and being heard.
Interest in fashion is only increasing, with consumers becoming more aware. In 2010s, people wanted to spend on fashion more than ever, and the fashion industry was a promising one to be a part of. Fast-fashion became a global phenomenon, with brands like Zara, Forever 21 and H&M giving the middle-classes the opportunity to dress themselves up in the latest styles.
More people than ever before wanted to be stylish and this increased the diversity in fashion industry. Now everyone wanted to be included and fashion wasn't just for the "traditionally fashionable" anymore. Brands had to cater to all markets, sizes, age groups, body types and skin-tones.
This phenomenon also gave rise to the new wave of opinionists, fueled by the industry norms and propagated by social media. One example is the "free the nipple" movement. Another was the trend of body contouring and surgery becoming more acceptable.
As a result of sculpting surgery becoming commonplace, so many celebrities have same type of bodies now: full lips, big hips, small waist. And this automatically gave rise to the opposing groups who want natural and curvy body types to be appreciated and seen more.
Diversity in shapes and skin tones for fashion and beauty solutions was expected more than ever. It called for a demand for a larger change in the fashion landscape that included everyone: both nonjudgmental surgery lovers and conservationists. Brands that are unable to keep up are failing.
Also read: Bella Hadid Surgery: How Fashion Industry Promotes Body Image Issues
Fashion Trends Became Global Phenomenons in 2010s
Thanks to the internet, everyone has access to the latest news from across the world no matter where they are. Now we're able to watch fashion events as they happen, and no matter where you are in the world, you know what's trendy. 2000s already started this type of situation, but even then, people relied on their local news channels more, where in some cases, information would take weeks or months to come.
However, in 2010s, for the first time, people could get access to global trends and no new styles were too "western" or "eastern" anymore. This is why women in India wanted to order any certain lipstick Gigi Hadid wore to the Met Gala, or makeup artists in the US wanted to try their hands at the Korean skin-care products that could give them the glass skin glow.
The Key Players of Fashion Changed in 2010s
One major takeaway in 2010s was that fashion trends aren't just defined by magazines or celebrities anymore. Up until last decade, what was published in the magazines was taken as "the holy word" and what the celebrities wore was always considered fashionable. But that changed in 2010s. Somewhat, at least.
First of all, the fashion designers came into the limelight with social media. Now people directly follow designers and celebrities to know the latest styles first hand (without needing to read magazines). Secondly, fashion influencers can bring a new style, directly make it mainstream before the runways catch up. This happened many times in this decade, for example, with vlogger style makeup, fishnets under ripped jeans, boy jeans, Korean glass skin, white sneakers, etc.
And last but not the least, 2010s was the decade in which just about anyone with good taste can work towards making an actual change in the fashion world. One could do this even without a body, as AI influencers and digital models also entered the scene.
It was the decade ruled by fashion bloggers, some of whom have a greater clout than fashion magazines themselves. The fashion so-called influencers have become a big part of the fashion community, taking up front rows at fashion weeks and frequenting fashion scenes, getting recognition by the consumers.
One of the main things that changed in the fashion industry was fashion literacy (or lack thereof) among people who influenced fashion as a whole. 2010s was so much about "following the celebs and influencers" who have the power to make trends go viral.
However, a lot of these celebrities are styled by stylists, and don't necessarily have a larger knowledge of fashion, any academic background in fashion or a knack for putting together memorable ensembles. Kylie Jenner, for example, one of the most-followed celebrities on Instagram, is a fashion and beauty entrepreneur. Yet she is often criticized for her lack of fashion knowledge in the traditional sense.
Most Influential People in 2010s Fashion
If I had to list some of the people whose fashion made a lot of difference throughout the decade, they were Kate Middleton, Kylie Jenner, Kim Kardashian, Rihanna, Gigi Hadid, Kendall Jenner and Deepika Padukone.
And if I had to list the influential people whose decisions made a lot of difference in 2010s, or who influenced the fashion industry, I'd say Karl Lagerfeld (RIP, miss him), Donatella Versace, Ashley Graham, Ralph Lauren, Anna Wintour and Winnie Harlow, to name a few.
2010s Fashion: A Decade that Loved Practicality
Although the '10s saw plenty of uncomfortable trends, fashion  in this decade was primarily about ease and functionality. Millennials and the ever-rising female workforce were definitely contributing factors here. Women are getting more and more busy, juggling roles at work and home, getting less and less patience for fashion that is uncomfortable.
Enter cleaner silhouettes, softer fabrics, versatile pieces and wardrobe basics in simple colors for all. 2010s became the first to see nearly all top fashion houses include androgynous styles and work-wear on the runways. Examples of these styles included blazers, pant suits, boyfriend shoes, boy jeans and women's tuxedos.
Minimalism ruled the fashion scene, especially in the first half of the decade, when celebrities were obsessed with wearing plain sheath gowns. Even brides appreciated simpler and fresher styles like shorts, pants, and shift dresses.
2010s Added Another Purpose of Fashion
Fashion is reflective of a society and an era. In so many ways, it's a visual commentary on people's collective behavior. The culture of a decade always molds the fashion scene. Social media in this case did so.
Social media simultaneously makes you express your individuality and yet feel lost in a crowd. In a decade where taking selfies and waiting for "likes" was the norm, craving attention became synonymous with eating or breathing.
Fashion in 2010s was about standing out in a crowd and showing off your boldness. Fashion has always been about expressing your personality. But in 2010s, it became about building your personal brand. Fashion became a medium for constantly trying to be unique. For trying hard to balance keeping up with the trends and yet not wearing what everyone else was wearing.
Especially towards the late 2010s fashion became more "extra" everywhere. On the red carpet, celebrities preferred fashion that could make a statement – poufy, gowns, extravagant hair accessories, shiny fabrics and embellishments. Even the fashionista-next-door wanted to try unique things that would stand out more in their social media feeds – leather pants, large ruffles, big collars, unique makeup.
The new purpose of fashion has become to help the wearer "go viral". Everything larger than life. Larger than the real life, that is.
The Decade of Street Style
As social media platforms grew bigger, celebrities became "bloggers" themselves, posting their daily outfits and so called OOTDs, (outfits of the day) that their followers could get inspired by. Cutting out the middle man (the magazines), celebs could now directly reach their fans. They could showcase their daily style to the world, be it getting to and from events or just off-duty hours.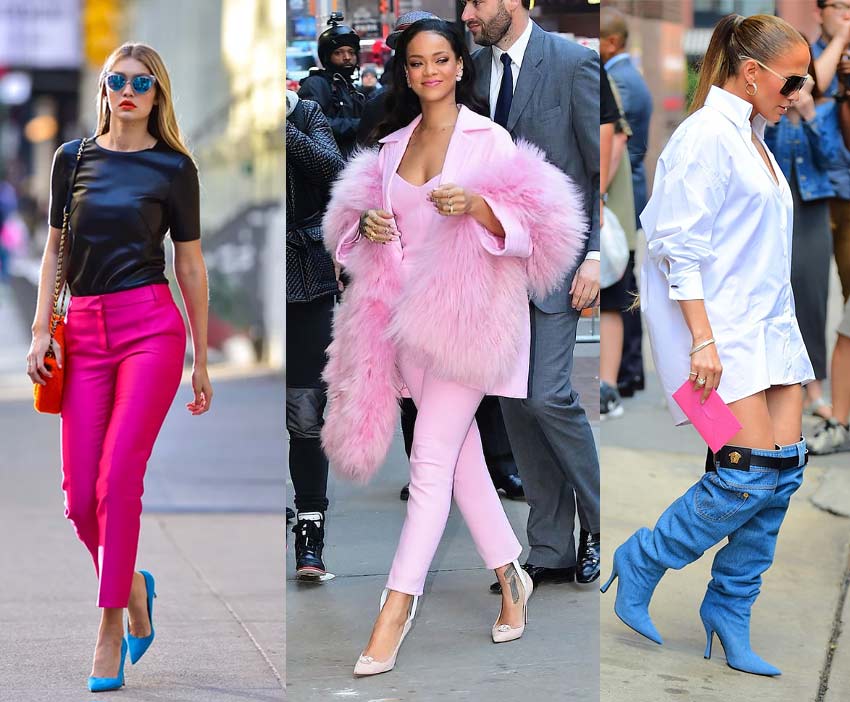 This gave rise to a new sub-genre of casual fashion called  street-style. Fashion magazines now have dedicated street style sections to cover celeb street style and to give advice to their readers on how to up their street style game.
The Overarching Themes in 2010s Fashion
1. The "Basic" Look
Early 2010s style was more about the effortlessly chic look. The ensemble consisting of leggings, shearling-lined Uggs and over-sized tees or sweaters got so common that the look became one of the defining traits of what would later be called "basic". Even celebrities wore the more fashionable version of lampshading – oversized blazer or denim shirt over boots. That's the defining style of much of this decade.
2. The Revival Trends
As mentioned before, 2010s were full of revival trends from every decade: slip dresses, denim on denim, jumpsuits, oversized sunglasses, kitten heels, ruffles – you name it. Some other styles included crop tops, flounce sleeves, palazzos, chokers and leather pants.
3. The New Trends
Of course, 2010s brought its own share of new fashion trends into the scene that had little to no history before. For example, micro bags, sweaters with statement flounce sleeves, cycling shorts worn for street wear were some of the new 2010s fashion trends. We may not like them all, but they were introduced nonetheless!
4. The White Sneakers
Another larger narrative that'll go forward is the look with white sneakers worn over slip dresses or skinny jeans. White sneakers went everywhere from offices to airport lounges, from streets to the red carpets. And everyone wore them, whether it's celebs or your average commoner.
5. Athleisure & Loungewear
Athleisure was also big in the 2010s. Although the trend of wearing gym-wear as casual clothing had already started gaining popularity in the 1990s, the new trend in 2010s fashion was to wear clothing that was inspired by athletic wear, but designed especially to wear outside the gym, versatile pieces for nearly every occasion. It was sort of an extension of 2000s Paris Hilton juicy tracksuits.
Taking comfort-wear to a whole new level, the trend of luxury lounge wear also became popular in 2010s, consisting of pajamas, slouchy short-sets and mini-night-dresses. To quote my own article published in The University of Fashion blog, "While athleisure takes active-wear out of the gym and onto the streets, luxury loungewear takes nightwear out of the bedroom and onto long-haul flights, the street, the breakfast table and even to new-age workplaces."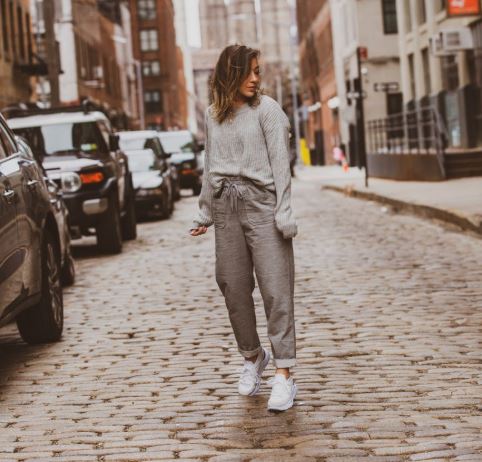 6. The 2010s Color Palette
Color plays a big role in fashion. 2010s were a lot about the neutrals. From makeup to clothing to hair colors, neutral shades were dominant in 2010s fashion. Hues like beiges, greys, nudes and whites/blacks made up the new types of wardrobe for the minimalist woman (and man). Celebrities like Kim Kardashian popularized nude lipsticks and many fashion bloggers inspired others to create a neutral fashion aesthetic.
The Worst Fashion Trends of 2010s
Like every decade, 2010s fashion had some trends we hope to not go back to. I'm afraid I have to start with one I have ranted against constantly – the see-through dresses. They were one of the worst trends in 2010s fashion that we kept observing every year incessantly. In fact, sheer everything: please stop this itchy, impractical nonsense that doesn't even work in all climates and cultures.
Oh, and also nude-colored clothing. I hate to buy things I wear only once to realize they're not classy and then send them to the bottom of my closet forever. Even Carrie Bradshaw realized the naked dress was not worth it. Under-boob, plexi-shoes, concealer that was too much lighter than your skin, over-sized blazer without pants (so Kardashian-esque and so trashy. Sorry Kim), cycling shorts are some other trends I hope we can say good-bye to in 2020s.
Beauty in 2010s
Since ancient times, beauty trends have often been a matter of public discord – should you try to whiten your skin? Should women be "allowed" to wear red lipsticks? Is it frowned upon for women to remove facial or eyebrow hair? And so on.
However, as a huge step forward in society, beauty in 2010s was all about choice. A red lip is just as acceptable as a nude one. For the first time, younger women can easily learn to do pro makeup right at home – for free. And wear it everyday. We still have a long way to go, as many still consider a full face of makeup as a cry for attention. But at least a knowledge of makeup techniques is commonplace as of the end of 2010s.
Contrarily, perhaps the most prominent beauty trend in 2010s fashion was no makeup makeup. A lot of emphasis was on skin and natural beauty, and showing off selective flaws like freckles. This became more common, especially as Korean skin care trends and glass skin became popular in the second-half of the decade. Even in pre-wrinkle ages, women began to care about having an extensive skincare routine more so than ever before.
Hair in 2010s
Hair trends kept going up and down with how extensive the look wanted to be. We saw overtly embellished hair accessories and unnaturally straight hair, as well as natural curls or waves. For the everyday look, women preferred practical hair, no jazz.
As 2010s have just ended, it's still hard to speak about the grand narrative of the whole decade. As time goes on, we'll know more about what exactly this decade and 2010s fashion will be known for. Hopefully, it's another step towards making fashion a beautiful, expressive and creative thing it's always been.
Shilpa Ahuja the editor-in-chief of ShilpaAhuja.com, which she founded with the goal of inspiring confidence in the modern working woman through fashion. Other than defining the direction of the magazine, she also writes about fashion & beauty trend forecasts, industry analysis, and opinions.
Shilpa's work has been published in the University of Fashion blog and Jet Airways magazine. She is also an artist, illustrator and cartoonist. She is also the creator of Audrey O., a comic series that represents the lifestyle of millennial women. She enjoys creative writing and world travel. Her art has been exhibited at Harvard Graduate School of Design and the Aroma Hotel, Chandigarh and been published in Chandigarh Times.
Originally from Chandigarh, Shilpa also has a degree in architecture and has worked in interior project management. She is also the author of the book "Designing a Chinese Cultural Center in India". Shilpa has a Masters in Design Studies degree from Harvard University.
For feedback and questions, please email [email protected]