From action-packed thrillers to incredible sci-fi and charming rom coms, here are the top 1990s movies for your every mood!
If there's anything I love more than 90s fashion, it's 90s pop culture! 1990s movies and TV shows are something I'll never get sick of watching. The feeling of nostalgia that comes along with watching the best 90s movies is unreal. Regardless of what your movie preferences are, our list of classic 1990s movies will have something you'd love to watch. Check out our top picks for the best 90s movies below!
Top 1990s Movies List
1. The Shawshank Redemption (1994)
9.3/10
Crime/Thriller; Tim Robbins, Morgan Freeman
This popular 1990s movie is about Andy, who is in prison for a crime he did not commit. Over the years, he learns to adjust to his new life and makes friends with other inmates along the way. All about friendship and redemption, this is the one flick I would highly recommend on this list of 1990s movies.
2. Pulp Fiction (1994)
8.9/10
Crime/Drama; John Travolta, Uma Thurman
I watched this movie after endless pestering from a friend and I can now say that it's one of the best on this 1990s movies list. The plot follows the lives of four different groups of people and how their tales are actually interconnected. It's hard to explain the detailed plot of this 90s film but what I will say is definitely give it a watch.
3. Forrest Gump (1994)
8.8/10
Drama/Romance; Tom Hanks, Robin Wright
The movie opens with Forrest Gump, a boy with a low IQ his best friend, Jenny Curran and their everyday lives. Fast forward to many years later and he ends up acheiving great things in his life. From joining the army to winning medals and meeting the president, he's done it all but all he can think about is his childhood sweetheart, Jenny, who's life is really messed up.
4. The Matrix (1999)
8.7/10
Sci-Fi/Action; Keanu Reeves, Laurence Fishburne
Another one of Keanu Reeves blockbuster 1990s movies. The plot revolves around Neo, a computer programmer, who discovers that humans have been captured by machines and are trapped in an artificial reality called the Matrix. With mind-blowing visual effects, amazing action sequences and gripping plot, this is one cutting edge film of the 90s you don't wanna miss. Also, the iconic Matrix sunglasses are back!
5. Goodfellas (1990)
8.7/10
Biography/Crime/Drama; Robert De Niro, Ray Liotta
Another one of the 1990s action movies that I have yet to watch. Although, The Guy says it's "The best movie ever made!". It follows Henry Hill, a gangster and his partners and his life in the mob. Men will enjoy this movie for sure.
6. Terminator 2 (1991)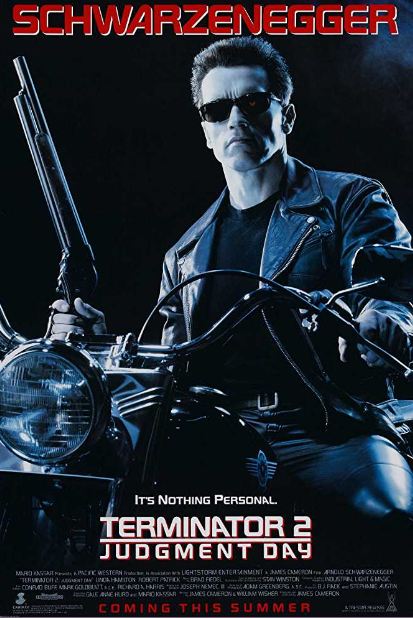 8.5/10
Action/Sci-Fi/Thriller; Arnold Schwarzenegger, Linda Hamilton
With a plot about cyborgs, an 8.5 rating, Arnold Schwarzenegger in the lead and directed by James Cameron, you can't not watch this movie. This sci-fi action made cyborgs look so handsome and macho, and even set men's fashion trends in the 90s with its leather jacket and sunglasses.
7. The Lion King (1994)
8.5/10
Animation/Drama/Adventure; Matthew Broderick, Jeremy Irons
Simba, a lion cub, is thrown into exile by his cruel uncle after framing him for the murder of his father. After living many years by himself and making some great friends, he decides to return to his homeland to face his past. This amazing 1990s animated movie was a huge part of my childhood and I still love watching it to this day.
8. American Beauty (1999)
8.4/10
Drama/Romance; Kevin Spacey, Annette Bening
This Oscar winning movie is a dark drama about a father who leads a rather unhappy life and starts fantasizing about his daughter's friend. Things take an unexpected turn when the characters turn out to be what you hadn't expected them to be.
9. Good Will Hunting (1997)
8.3/10
Drama; Matt Damon, Robin Willams, Ben Affleck
The story follows math genius Will, a janitor at MIT and later gets discovered by one of the professors. He can solve anything as long as numbers are involved but struggles when he's faced with an emotional problem. This is one of the few 1990s movies that I haven't watched yet but definitely on my list!
10. Jurassic Park (1993)
8.1/10
Adventure/Thriller; Sam Neill, Laura Dern
A group of people's visit to a dinosaur theme park goes awry after a power breakdown shuts down the security systems and allows the wild and violent creatures to roam freely. Directed by Steven Spielberg, this is one of the best 90s movies that will keep you glued to the screen from start to end.
11. Fight Club (1999)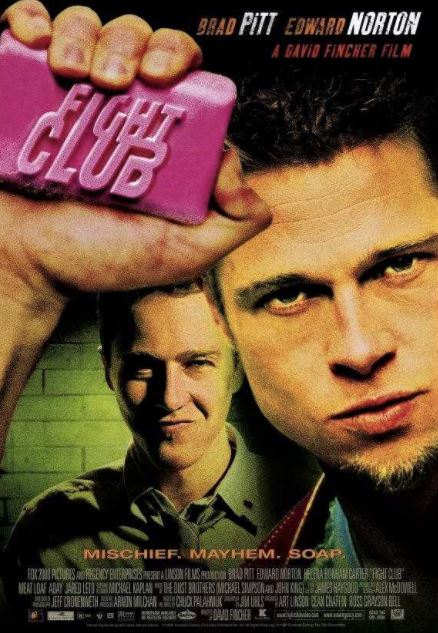 8/10
Drama; Brad Pitt, Edward Norton
An insomniac office worker and a soap salesman form a fight club together. What ensues is rivalries, competitiveness, complications and fight for power. Give this 1990s movie a watch, I bet you will not be disappointed.
12. The Nightmare Before Christmas (1993)
8/10
Family/Fantasy/Animation; Danny Elfman, Chris Sarandon
This ghoulish 1990s animated movie is about Jack Skellington who lives in Halloween Town. One day, he stumbles upon Christmas Town, a town that's everything his isn't. Enchanted by the joy and liveliness of the town, he decides to bring it to his own town, which causes chaos and confusion. Another one of the best 90s movies in terms of animated films is Toy Story, which I also highly recommend.
13. Edward Scissorhands (1990)
7.9/10
Drama/Fantasy/Romance; Johnny Depp, Winona Ryder
This Tim Burton classic is about a man named Edward who has metal scissors for hands. He lives in isolation in a castle on top of a hill until a woman named Peg discovers him and takes him in. But things soon take a turn for the worst after he's wrongly blamed for a crime he didn't commit. It's truly enchanting and Johnny Depp is as amazing as ever in this great 1990s movie.
14. Titanic (1994)
7.8/10
Drama/Romance; Leonardo DiCaprio, Kate Winslet
This popular 90s movie is based on the real-life Titanic's sinking with a twist. It's a tragic love story of two very different people with very different backgrounds who meet on board the R.M.S Titanic. I honestly don't know why I'm even explaining the plot. You've obviously watched it already.
15. Home Alone (1990)
7.5/10
Family/Comedy; Macaulay Culkin, Joe Pesci
An eight year old boy is accidentally left behind at home by his family when they leave on a vacation. A pair of burglars learn that a kid is home alone and try to rob his house. But honestly, how on earth do you leave your own kid behind?! I just don't get it. However, it's a hilariously enjoyable watch as he sets up traps all around his house to catch the thieves. It's undoubtedly one of the best 1990s Christmas movies to watch during the festive season!
16. Men In Black (1997)
7.3/10
Comedy/Adventure; Will Smith, Tommy Lee Jones
The first of the Men In Black trilogy, It's about a police officer who joins a secret agency that monitors alien interactions on earth. All sorts of aliens living in the real world and Will Smith in the lead role. Do you really need any more reasons to watch it?
17. The Talented Mr. Ripley (1999)
7.3/10
Crime/Drama/Thriller; Matt Damon, Gwyneth Paltrow, Jude Law
Set in gorgeous Italian locales, this 90s fim is about a poor young man who encounters a handsome heir played by Jude Law, and becomes obsessed with wishing that life was his. Things move along when the two become friends and eventually, crime ensues.
18. Speed (1994)
7.2
Action/Adventure; Keanu Reeves, Sandra Bullock
A fast paced movie with a gripping plot about a bus that has been rigged with a bomb, which will explode if it's speed limit goes below 50 mph. Jack Traven, played by Keanu Reeves, must detonate the bomb before it's too late. Sandra Bullock also stars in this action movie from the 1990s.
19. 10 Things I Hate About You (1999)
7.2/10
Comedy/Romance/Drama; Heath Ledger, Julia Stiles
This girly film is, in my opinion, one of the best 90s movies ever. This atypical chick flick movie starring the swoon-worthy Heath Ledger is about teenage relationships and love and the complications that come along with it. It's actually really hilarious and not as serious as I'm making it sound.
20. Scream (1996)
7.2/10
Mystery/Horror; Courtney Cox, Neve Campbell
If you want a good scare, Scream is one of the best 90s horror movies to watch. It's based on Sidney and her friends who receive strange phone calls from a deranged masked serial killer.
21. Mission Impossible (1996)
7.1/10
Action/Adventure; Tom Cruise, Jon Voight
Mission Impossible has got to be one the best action movies from the 1990s. The first of the famous series, this movie is about Ethan Hunt, a special agent, who is set up as the culprit for a failed mission that killed his entire team. So, he sets out to find the person who framed him. Also, Tom Cruise is ridiculously good looking in it, making this one of the best 90s movies to watch.
22. Pretty Woman (1990)
7/10
Romance/Comedy; Richard Gere, Julia Roberts
I've watched all the romantic movies of the 1990s but this one's my absolute fave! A classic romantic comedy about a wealthy businessman who hires an escort for a week but ends up falling in love with her. In terms of rom-coms, it's one of the best 90s movies out there. It's also Julia Robert's best movie ever!
23. Independence Day (1996)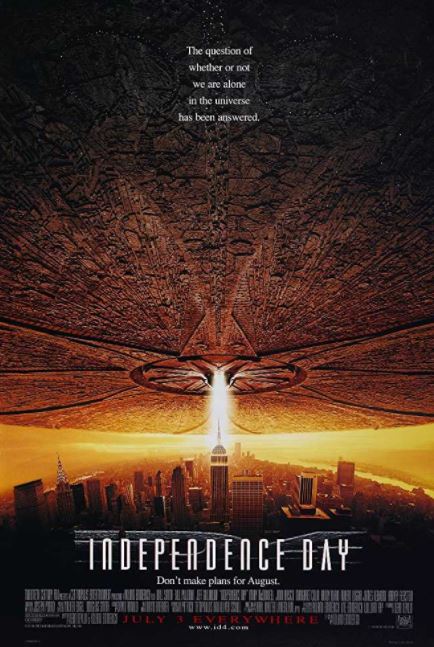 7/10
Sci-Fi/Action; Will Smith, Bill Pullman
Mankind has to find a way to survive a deadly alien invasion in this thrilling 1990s movie. It's one of the most popular sci-fi-films of the nineties.
24. The Mummy (1999)
7/10
Action/Fantasy; Brendan Fraser, Rachel Weiz
The mummy of a dead high priest is accidentally woken up by a group of people at an archaeological dig. It's fast paced, action-filled and thrilling storyline makes it one of the great 1990s movies.
25. Jumanji (1995)
6.9/10
Adventure/Family; Kirsten Dunst, Robin Williams
Out of all the 1990s family movies out there, Jumanji is the best, according to me! It was the first movie I ever watched in my entire life and that's one of the many reasons I love it. The storyline is based on two siblings who play a magical board game that they find in their attic. Playing the game comes with many frightening consequences but they have to finish the game to put an end to it.
26. The Mask (1994)

6.9/10
Fantasy/Comedy; Jim Carrey, Cameron Diaz
Stanley Ipkiss, a bank clerk, finds a mask that transforms him into a wild and crazy superhero when put on. Hilarious yet romantic, this movie should most definitely be a part of your list of 1990s movies to watch
27. The Silence of the Lambs (1991)
6.9/10
Crime/Drama/Thriller; Jodie Foster, Anthony Hopkins
An FBI agent reaches out to a psychopathic killer named Hannibal Lecter to help catch another serial killer in this crime/thriller film.
28. Basic Instinct (1992)
6.9/10
Drama/Mystery/Thriller; Michael Douglas, Sharon Stone
Basic Instinct is a murder mystery starring Sharon Stone in the role of a femme fatale and murder suspect. When the detective, Nick, who's investigating the murder, falls for her, things get complicated. And hot.
29. Romeo + Juliet (1996)
6.8/10
Drama/Romance; Leonardo DiCaprio, Claire Danes
This 1990s romance movie is a modern-day take on the classic Shakespeare play. And even though it's set in modern times, the plot is the same with the feuding families, evil Tybalt and one epic love story. And Romeo is played by none other than the 90s hearthrob – Leonardo DiCaprio!
30. Clueless (1995)
6.8/10
Comedy/Romance; Alicia Silverstone, Stacey Dash
This extremely popular chick flick stars Alicia Silverstone as Cher Horowitz, a rich and materialistic teen who comes to learn what's really important in life. Watch this 1990s teen movie just for its outfits and style, you will not be disappointed! Apart from it's incredible fashion, the plot is a typical chick flick that you can surprisingly watch over and over again.
31. Romy and Michele's High School Reunion (1997)
6.7/10
Comedy; Cast: Lisa Kudrow, Mira Sorvino
A super hilarious 1990s comedy movie about two best friends make up huge lies about their lives and careers to impress their classmates at their school reunion.
32. Star Wars – The Phantom Menace (1999)
6.5/10
Action/Fantasy; Ewan McGregor, Liam Neeson, Natalie Portman
The first in the Star Wars prequel trilogy follows the story of young Anakin who grows up to become Darth Vader in the later movies. Criticized heavily by the fandom, the movie is actually a fun watch especially with the podrace that makes a great Nintendo game!
33. Fear (1996)
6.2/10
Genre: Drama/Thriller; Mark Wahlberg, Reese Witherspoon
If there ever was anything as an amazing psychopath, it's Mark Wahlberg as David in Fear. The story is based on two lovers, David, a kind and handsome young man and Nicole. Everything's perfect at first but things soon take a dark turn when his love for Nicole turns into a crazed obsession.
34. Never Been Kissed (1999)
6/10
Comedy/Romance; Drew Barrymore, David Arquette
Josie Geller, a journalist for the Chicago Sun Times is required to go undercover and report on the high school scene. She soon catches the eye of her teacher, Sam Coulson. Watch to find out what happens next in this sweet and charming rom com.
35. She's All That (1999)
5.8/10
Romance/Comedy; Freddie Prinze Jr., Rachel Leigh Cook
One of the typical but funny 1990s movies, it's a story about a jock who makes a bet that he can turn the biggest geek in school into prom queen. What happens when he unfortunately starts to fall for her? Watch it to find out!
36. I Know What You Did Last Summer (1997)
5.6/10
Horror/Mystery/Thriller; Jennifer Love Hewitt, Sarah Michelle Gellar
A scary 1990s movie about a group of teens who get drunk and accidentally run over a man. Out of fear, the dump his body in the sea to avoid murder charges. However, a year later, they receive anonymous letters from a man who threatens to expose their secret. A creepy and chilling watch indeed!
So those were the top 1990s movies that you need to watch! Let us know what's on your 1990s movies watch-list by tweeting @shilpa1ahuja!
Images curated by: Sahana G
Also read:
– 90s Actresses: Popular TV & Movie Actresses of the 90s We're Remembering
– What Movie Should I Watch: 50 Cult Classic Movies for Girls
– Original 90s Supermodels & All You Need to Know About Them
– 90s Fashion Trends That are Making a Comeback
– Awesome 90s Lipstick Shades We're Loving Right Now!
– All About Grunge Style: How to Do 90s Grunge Fashion
Nishita is a Staff Writer/ Journalist at ShilpaAhuja.com. She is a graduate of National Institute of Fashion Technology and has a degree in leather design. A lover of all things fashion, she writes about everything from beauty, hair and lifestyle to fashion trends and how-to's. Her area of expertise is outfit ideas but being fresh out of college, she also loves writing about college fashion. Her new found love of baking is currently taking over her life, making her write about all things chocolate and easy recipes. With a flair for sketching and a great eye for detail, she's previously designed leather garments for brands like Diesel and Salsa. When she's not writing, she's busy reading extremely sappy Nicholas Spark's novels, sewing clothes and listening to some indie rock. Also super passionate about photography, she loves portraits and wildlife photography – a habit turned love that formed with the amount of traveling she did as a teenager. As a girl who grew up with books and movies like Pride & Prejudice, her love for period fashion is huge. And being curly haired, she's always on a constant hunt for solutions to problems that come with having ringlets and loves sharing them with people through her articles. For feedback and questions, email [email protected] or connect with her on twitter @ni95.