Trends may come and go but every women needs those must-haves that are timeless. Check out the 17 shoes that never go out of style!
Hey beautiful! Every stylish wardrobe should consist of a few risk-free things that we can opt for. The things that forever stay in style and and look chic, classy and beautiful. Those one-time investment pieces whose styles don't fade away quickly with the changing trends.
Like other accessories and clothes there a few shoe styles that are worn by women for a long time and are still trendy. We have plenty of trendy shoes but when it comes to comfort we limit ourselves to the classic ones.

17 Timeless Shoes That Never Go Out Of Style





1. Nude Pumps
Nude pumps are the #1 type of shoes that never go out of style. Invest in a classic piece that fits well and never goes out of style. Nude pumps are perfect for formal occasions. Stylish women like Kate Middleton and Princess Diana have been spotted in nude pumps for past many years and they are still in trend!
2. Black Patent Leather Pumps
These classic shoes complete the work and formal look for a woman. Pair these types of shoes with a crisp white shirt and black pencil skirt. Great for conferences, office meetings and even black-tie events.
3. Moto Ankle Length Booties
Perfect casual and night-out shoes! Moto ankle length booties have been trendy since the 80s and party loving women adore them. Black leather ankle length booties go well with either our favorite LBD or all the time hit option – blue denims and white tee paired with a leather jacket.
4. Red Pumps
Look sexy with these! Mid or low heel, red pumps just define the entire look. They can be worn with a matching dress or with a neutral colored outfit.
5. Over-the-Knee Suede Boots
Over-the-knee suede boots have an oomph factor. They work well for work and day time parties too. Heeled or flat boots, they are a must have.
6. Ankle Strap Metallic Stilettos
Stilettos in metallic colors like gold, copper, silver, etc. are timeless. With or without ankle strap, gold metallic stilettos would never go out of style. They work well with long gowns as well as cocktail dresses.
7. Black Peep Toes
A black ankle strapped peep-toe shoe is a must have in every woman's wardrobe. I love these as black is an all time favorite and you never have to wonder whether it would match your outfit.
8. Broad Strap Sandals
Broad strap sandals are super comfortable and the pastel colored ones go well with most casual outfits. When you have to keep standing for a long time like in spring fests and concerts, then opt for these sandals.
9. Flip-Flops
Flip flops are my all time favorite comfortable pair of shoes. From shopping to beaches to casual walks to lounging at home, these are the best option.
10. Solid Colored Rain Boots
Being in Chennai we don't get much opportunity to wear the rain boots. But if you live in a place where it rains frequently, they are a must have! You can also wear these formal boots to work too.
11. Plain Black Ballet Flats
Going on a date with your special man, but worried that long heeled shoes will not be comfortable for a longer time? Then go for ballet flats. These are comfy and trendy at the same time.
12. Black Sneakers/Trainers
We see many options in sneakers these days. White sneakers have been trendy since last year but black sneakers are a timeless style. Plain black or two-tone color, both are classics.
13. Leather Knee-High Boots
These are good for the spring and fall seasons. Brown tan and black are the shoes that never go out of style.
14. Strappy Wedges
Wedges look fabulous when paired with maxi dresses, skirts, pants and shorts. They can be worn from day to night.
15. Lace Up Booties
Lace up booties are a timeless piece of shoes and can never go out of fashion. They match most of the casual outfits like day dress and mini skirts.
16. Loafers
Loafers are good for formal as well as smart-casual look. If you don't want to fill your wardrobe with black shoes, then try subtle colors like grey.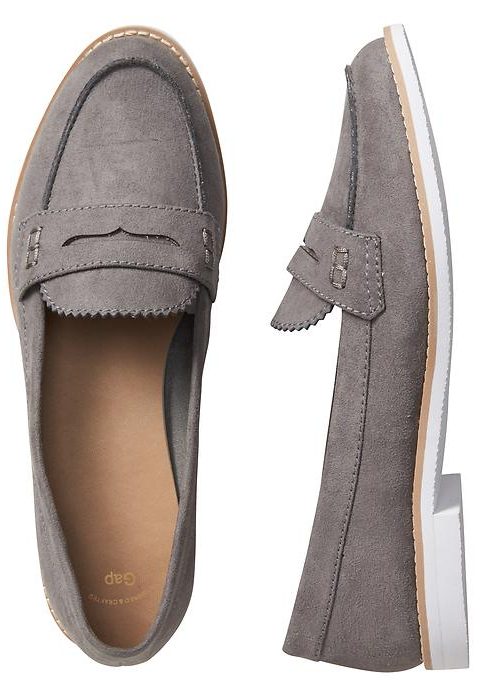 17. Centre Embellished Ballet Flats
Ballet flats work well with formal wear. In case if you wanna wear these to parties, try the center embellished solid colored ones.
So, how many timeless shoes are you already having in your closet? Or which ones are you gonna add! Do let us know in comments below.
Anusha Jain is a Staff Writer & SlubShop Manager at ShilpaAhuja.com. She has a diploma in Fashion Design from iNIFD and is originally from Andhra Pradesh. Before entering into the field of fashion, she got a Masters in Analytical Chemistry. Her love in fashion design, a passion in staying updated with the latest trends and zeal to do something creative paved her way to a career in fashion. Here, at Shilpaahuja.com, she works on bringing the latest in shopping ideas, fashion tips and beauty advice to SlubShop, the world's first purely trend-based affiliate store. Accessories are her expertise. Her work on SlubShop involves bringing the latest runway trends to the masses, and designing the UI/UX to make it look innovative and fresh. She is also a fitness and dieting aficionado, writing about bringing the latest in the world of wellness and health. When she's not writing she loves to travel, watch movies and also she is interested in photography, using herself as a muse. For feedback and questions, email [email protected] or connect with her on Twitter @Anushajain14.