From girl-next-door-esque to straight-up celebrity inspired, here are women's 15 different types of haircuts for long hair that you can consider for your next salon appointment!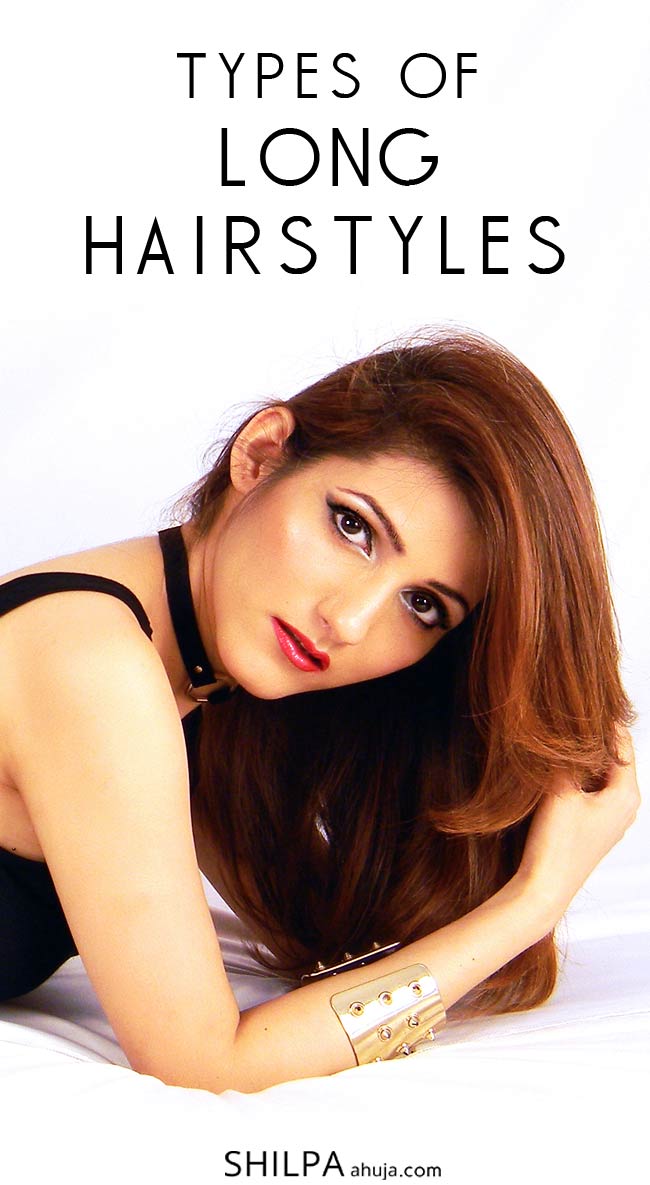 Hey gorgeous! Hair is such an important part of your outfit and yet often overlooked. A haircut says so much about your personality and a good haircut can really make a signature statement. On a daily basis, we plan just the clothes and accessories that we're gonna put on, and the hair is always an after-thought. However, hair is usually one of the first things people notice about you.
Also check out: How to Choose a Hairstyle According to Your Face, Lifestyle, Personality
On a good hair day, people have stopped to specifically tell me how something about my appearance looks good and different. The hair can either become invisible (pony-tailed and tucked under a hat) or the focal point of your look. The truth is, your haircut even defines what hairstyles you can and cannot wear. For example, once you get layers, forget being able to make braids without tiny hair sticking out.
Women's 15 Different Types of Haircuts for Long Hair to Try
Anyhoo, for now, let's just talk about haircuts themselves. For you long haired girls, I've made a whole list of women's different types of haircuts for long hair, which'll help you choose which one you should get. Plus, some are so similar and confusing, so I'm gonna list out their subtle differences and also the sub-types, if any. With pros and cons for each! You're welcome!!
Let's go!
1. Straight Cut
The simplest among all different types of haircuts for long hair, straight cut is the one where all hair aappear to be of similar length. In this haircut, hair ends are trimmed in a way that they end in a straight line at the back when let down.
This is a great hairstyle to have when you want fuss-free, low-maintenance hair that you can even get trimmed by your friend or mom! Plus, this is also a good option when you want all your hair to look very long.
2. U Cut
Similar to the straight cut, the U cut is the type of long hairstyle in which the ends of hair are trimmed to form a curled line, something like a shallow U. In this haircut, the hair at the center of the back are the longest, and they get slightly shorter towards the corners. This haircut is a great idea for women who frequently get split-ends or whose hair just doesn't grow evenly at the back.
3. V Cut
The V cut, as the name suggests, is the sharper version of the U cut. It's the haircut in which the hair is trimmed in a way that their ends forms the letter V at the back. The hair at the back is the longest in the center and gets shorter towards the corners.
V cut is the one to go for among all the different types of haircuts when you want something unconventional and unnatural. This is kind of an edgy, but high-maintenance haircut, since hair may tend to grow unevenly just within a couple of weeks, and you'll have to get it re-trimmed to maintain the V shape.
You can also go for this haircut along with layers, where some of the hair at the back are shorter, but the under-layer forms the V shape.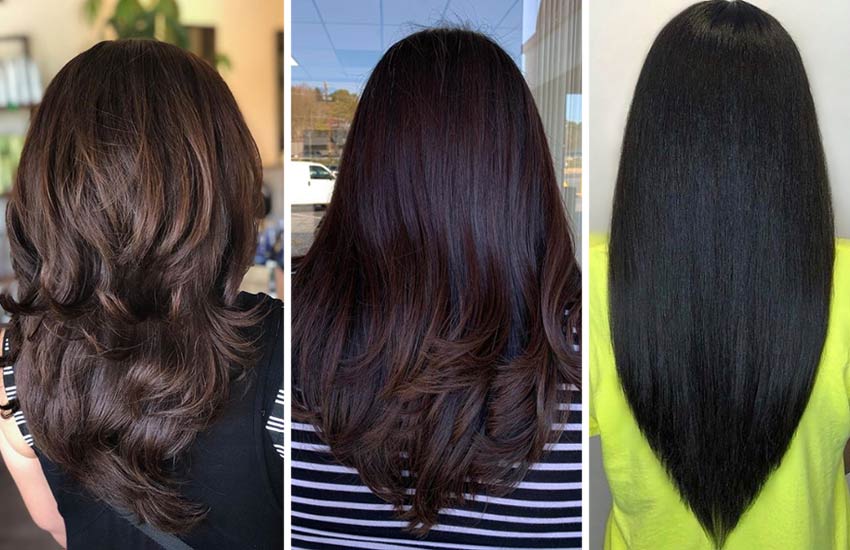 4. Tapered Cut
Tapered cut is a type of straight cut in which the hair is trimmed in a way that they form a straight line with tapered ends at the back, something like this \__/
This is a good idea for girls who like a simple straight cut but that's not too sharp at the ends. However, this haircut is too high maintenance for what it's worth – you'll need a trim every few weeks to maintain the tapered shape and a U cut is a simpler, more natural looking alternative.
5. Layer Cut
The layer cut is one of the most common and stylish among all different types of haircuts for women. In layer cut, the hair is cut in layers, where different strands of hair are of different lengths. The layers are usually cut in a way where the shorter layers are at the front, framing the face, and the longer layers are usually left at the back to show off the length.
Layer cut suits almost all face shapes, because there are just so many different types of layer cuts, which we'll discuss below. This haircut looks great right after a haircut, but doesn't look bad even if you don't visit the salon regularly. Layer cut looks the best with wavy hair, and looks good with highlights or ombre too.
Also read: Types of Haircuts for Girls That Never Go Out of Style
6. Face Framing Layers
This is a type of layered haircut in which the shortest layers are in the front, and end at the chin-level or an inch below the chin. These flicks or thicker layers frame the face and give a youthful yet glamorous look. In this type of haircut, the main focus of the layers is just to frame the face, as there aren't too many other layers that are cut.
Face framing layers can be styled wither with a center-part or combed to the side with a side-part. If you're going for this haircut, do remember that the hair will look more voluminous in the front, but very thin at the back, especially if you make a ponytail or a bun.
7. Medium and Long Layers
This is a layered haircut that doesn't have too many layers, instead there are just two layers – one medium that ends a couple of inches blow the face, and maybe another long layer. This haircut is very similar to face framing layers, as it also has the shortest layers in the front.
However, in this haircut, the short layers are longer than chin-length. The layers do give a face-framing appearance, but they end much below the face, giving the look of longer hair and a more mature look to the face. This haircut is a good idea for women who do like face-framing layers but don't want their face to look too young or round-ish.
Medium and long layered cut is fast on its way to becoming one of the most popular among different types of haircuts, as loads of celebs are opting it instead of full-on layers these days.
8. Uneven Layers
Unevenly layered haircut is the type of haircut in which strands of hair are cut in layers in such a way that you can't make out where one layer ends and the other begins. This haircut gives a more grown-out and natural look. In this haircut, you can see some strands that are standing out as proper layers, whereas others just sort of merge into one another.
Uneven layers are a great haircut for women who need a low-maintenance cut that doesn't require you to get a trim every month or so. It's also a great option for those who want to cut it themselves without the risk of it going wrong! I love this haircut and I often get it, since it's so low-maintenance, and also helps me get rid of all the split-ends and yet have the look of stylish layers.
9. Step Cut
Step cut is the type of haircut where the hair in the front are trimmed in steps or very subtle layers, whereas the hair at the back are not layered at all. This is a great option for women with round or rectangular faces, since the shorter layers can conceal a strong jaw, whereas the longer layers in the front can give the elongated appearance, taking the focus away from a round face shape.
Among the different types of haircuts, this is one of the most well-known but not as well understood. A lot of people confuse step cut with layered cut, as they give a similar appearance, causing many to think these two are just two different names of the same haircut. However, in layer cut, layers of hair are cut both at the front and at the back, that all can be made out from one and another. Whereas in step-cut, the layers are indistinguishable and only at the front.
10. Waterfall Cut
Waterfall haircut is a type of layered haircut, in which the shortest layers are in the front near the face, and then go longer as you reach the back, giving the appearance of a waterfall. This haircut suits almost all hair types – straight, wavy and curly hair. However, every type of hair will give a different look with the waterfall cut.
Waterfall cut looks like step cut from the front, the difference being that the layers are cut very subtly in a gradient to go from top to bottom like a waterfall. This is similar to many different types of haircuts that offer a short-to-long layered look.
This haircut can be worn with or without the bangs, and also looks great with highlights or balayage. It's a good haircut for girls whose front hair just doesn't grow as long as the back hair. This haircut can also help you get rid of split-ends, especially in the front. This is also a great idea when you want your hai and r to give the appearance of a bob or lob in the front without actually going for short hair!

11. Bangs
Bangs are a type of cut in which the hair in the front are cut shorter than the eye-length. Bangs usually fall somewhere at the eyebrow, but may be slightly longer or shorter, depending on the look you're going for.
Bangs, also called fringes, may be cut evenly to form a straight line at the ends. Or they may be cut unevenly where they either taper to one side, or are just unevenly long throughout.
Among all the different types of haircuts, bangs are one of the most popular celebrity cuts, and that's mostly the reason for their popularity. Bangs help make the face look younger, since they are literally  styled after toddlers who don't have all their hair grown out yet.
However, if you go for bangs, do remember that they can be very high-maintenance as they require frequent trims. Plus, the constant irritation they cause to the forehead may even cause breakouts. Furthermore, bangs cannot be tied into a ponytail or bun, so you'll need to hold them up with a headband while working out or playing a sport. (You can always get clip-on bang extensions or wigs).
12. Razor Cut
Tha razor cut, as the name suggests, is a haircut in done with a razor, as opposed to using a pair of scissors. The razor gives a different look than scissors because it cuts unevenly, giving thin, natural looking yet edgy strands of hair.
Personally, I love razor cut and some stylists have also tried to give me a razor cut "with scissors" but it never looks the same. Razor cut is usually used to create a layered cut, or even bangs. In this haircut, the layers seem unevenly cut yet sharp.
Similar to some of the different types of haircuts mentioned in this list, razor cut is one that may not work as well on curly hair, since you won't notice the unevenness of the strands when they are curled.
13. Feather Cut
Feather cut is a version of step or layered cut in which the hair is cut into distinct layers that give the appearance of a feather. The first layer is cut at chin level or an inch above or below the chin. And the the next layers go down in a way that you can make out each layer individually.
This haircut works well for straight and wavy hair, but the feather cut won't be much visible on curly hair.  This cut is a nice idea to go for if you're getting it with a blow-dry for a party. But it doesn't give the same effect without the blow-dry so it's kinda high maintenance on an everyday basis.
Also, this haircut makes your hair look shorter in the front if you tie it into a ponytail. Plus it'll give a thinner ponytail, as only the longer layers will be able to be tied.
14. Rachel Cut
Made popular in the 90s by the famous TV show Friends, this haircut is inspired by one the worn by the main character Rachel Green, played by Jennifer Aniston. This haircut is somewhat similar to a step-cut, waterfall cut and a razor cut. She actually had medium-length hair in many seasons, but this cut will look just as great on long hair.
In the Rachel cut, hair is cut into gradient layers that go from small at the front to longer at the back, with the shortest layer about three to four inches below the chin. However, the cut may also be where the shortest layer is chin-length, or styled with bangs. Rachel cut is styled straight along the lengths with an inward curl at the bottom.
This is one of the most popular 90s hairstyles. After Aniston wore it in the TV show, it became the go-to cut for many women across the world, and is still the signature cut of the actress. And for good reason, since it looks extremely chic on most face types and is timeless. Personally, I also go for this cut from time to time, like I did on my graduation!
15. Long Side-Swept Cut
Side-swept cut is a very simple haircut, in which long bangs are cut that are swept to one side. The bangs are usually cheek-length, but may be longer or shorter, depending on the look you want. The long side-swept haircut can be work with medium-length or long hair.
So those were all the different types of haircuts for long hair that you should try. Which one is your favorite and least favorite? Lemme know below! And share your haircut pic with me by tagging me on Instagram @shilpaahujadotcom! I'd love to see it!
Muaah <3
Read next:
– Hairstyle Step by Step Tutorials: 5 Braids Every Girl Should Know
– Quick & Elegant Party Hairstyles for the Busy Woman
– 50 Easiest Curly Hairstyles & Haircuts for Long Curly Hair
Shilpa Ahuja the editor-in-chief of ShilpaAhuja.com, which she founded with the goal of inspiring confidence in the modern working woman through fashion. Other than defining the direction of the magazine, she also writes about fashion & beauty trend forecasts, industry analysis, and opinions.
Shilpa's work has been published in the University of Fashion blog and Jet Airways magazine. She is also an artist, illustrator and cartoonist. She is also the creator of Audrey O., a comic series that represents the lifestyle of millennial women. She enjoys creative writing and world travel. Her art has been exhibited at Harvard Graduate School of Design and the Aroma Hotel, Chandigarh and been published in Chandigarh Times.
Originally from Chandigarh, Shilpa also has a degree in architecture and has worked in interior project management. She is also the author of the book "Designing a Chinese Cultural Center in India". Shilpa has a Masters in Design Studies degree from Harvard University.
For feedback and questions, please email [email protected]