Wondering what to wear to an Indowestern theme party? Well, here are 12 latest designer Indo western outfits picked from Lakme Fashion Week!
Hey gorgeous! So many of you are always asking me what to wear to parties with an Indo western dress code. It's easy to pair a duppatta with your jeans, or rock your kundan necklace over your midi-dress and call them Indo western outfits. But it's indeed tricky to get your tailor or local boutique to create a whole new Indo western outfit for weddings and parties, especially if you wanna make a statement.
What is Indo Western Clothing?
As the name suggests, Indo wesstern wear is the fusion of Indian and western dress styles. The combinations may be done within the clothing itself, like pairing a western top with Indian pants, or a dress made in Indian fabric but draped in a western style. Or it could be done by pairing western wear with Indian accessories like a button-up shirt with jadau necklace.
Indo Western Wear Trends
So I looked at the latest Lakme Fashion Week's designer collections – and picked out 12 of my favorite Indo western outfits to inspire you! Let's take a look, and see how wearable they are!!
12 Indo Western Outfits from Lakme Fashion Week
#1: Baroque Anarkali Gown – Rohit Bal
I'm loving this concoction of royal Indian anarkali gown  with embroidery over silk, paired with a poncho bolero – with the structured shoulder top and the cinched waist bringing a Baroque influence.
Wear to: Wedding or engagement party
#2: Salwar Jumpsuit – I Am Design
Here's a simple and elegant option for those who want it fuss-free. I love the clean lines here, and the grace with which the salwar pattern becomes the jumpsuitsuit as it goes up. If you look at just the bottom half, it's just a salwar, and the top half, you'd think it's a dress.
Perfect for: Cocktail evening or a family dinner
#3: Salwar & Off-Shoulder Poncho – Jayanti Reddy
Here's another Indo western outfit with a salwar. Love the loose Aladdin style pants in a pastel color. But it looks great paired with a poncho top. Plus the off-shoulder element and the embroidered bottom hemline makes it look feminine and cute. It's sophisticated yet comfy-looking.
Where to wear it: Cocktail or a family party
#4: Skirt Chooridar- Garo
Here's a statement-maker – some mix of asymmetric pleated skirt and chooridar pants. Paired with a sleeveless asymmetric top. It's not something everyone would wanna carry, but if you wanna make a statement, this is a great option!
Great for: Wedding cocktail night or formal office party
#5: Sheer Asymmetric Top & Pants – Neeta Lulla
This does not even have much of an Indian influence. But if I were to wear this type of an outfit to an indowestern party, I'd wear the top with salwar, or I'd modify the top to look like an asymmetric kurta, without the collar.
Wear to: Cocktail or dance night
#6: Indian Patterns with a Slashed Skirt – Rahul Mishra
Here's a layered outfit that mixes the Indian bandhini (tie and dye) pattern in a scarf, tucked under a belt with a jacket and a slashed skirt, in a mixed earthy palette. Great for cold weather days. In the summer, I'd just pair the bandhini scarf with the skirt and a crop top.
Suitable for: Destination party or office party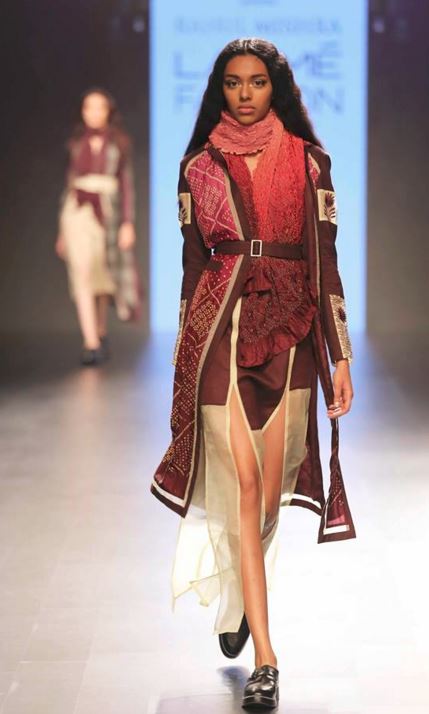 #7: Fringed Saree with Bandeau Top – I Am Design
Here's a saree outfit for those of you who want an excuse to don one stylishly! Love the saree pallu wrapped like a scarf around the neck. I'm not a fan of this bandeau top, and I'd have paired it with a beige or coral red sleeveless crop top. Or maybe a casual loose crop kurti!
Occasion: Casual party or wedding party
#8: Shorts with Dupatta & Crop Top – P.E.L.L.A.
Really interesting and statement outfit, this one. Silk fitted shorts paired with a full-sleeved crop top in beige, paired with a matching wrap.
Great for: Cocktail party or dance party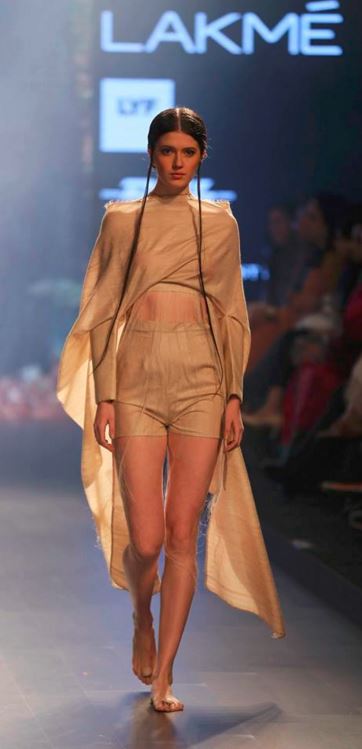 #9: Lehenga & Off-Shoulder Fringe Choli – Shriya Som
Here's a glam outfit for the brides or wedding guests. A sequin lehenga with a long train is paired with an off-shoulder fringed gold crop top.
Perfect for: Wedding sangeet or Engagement party
#10: Kurti Dress & Pants – Garo
In this Indo western outfit, a front-slit-dress/kurti-attached-to-a-slit-skirt is paired with silk pants. I like the concept, but it could have been sexier and cleaner with less mix-and-match, and perhaps taking the slit up higher to the ribs, and pairing with a pair of matching low-waist flared 70s pants.
Wear to: Engagementor  Wedding sangeet party
#11: Saree Skirt – Payal Khandwala
Here's another mix-and-match outfit – a fuchsia saree-style wraparound skirt paired with an olive green top and a pallu-style coral red scarf.
Occasion: Family dance or sangeet
#12: Off-Shoulder Asymmetric Top – Payal Khandwala
I wouldn't even call it an Indo western outfit had it not been made in Indian silk, or worn with a large nose-ring and flip-flops!
Works well for: Cocktail or dance party
So which of these Indo western outfits did you like the most? And which one did you not like? Lemme know how you would pair and accessorize Indo western outfits!
🙂
Read next:
– 21 Indo-Western Fusion Elements Every Girl Needs to Try
– How to Wear Indo-Western Suits & Dresses for All Occasions
Shilpa Ahuja the editor-in-chief of ShilpaAhuja.com, which she founded with the goal of inspiring confidence in the modern working woman through fashion. Other than defining the direction of the magazine, she also writes about fashion & beauty trend forecasts, industry analysis, and opinions.
Shilpa's work has been published in the University of Fashion blog and Jet Airways magazine. She is also an artist, illustrator and cartoonist. She is also the creator of Audrey O., a comic series that represents the lifestyle of millennial women. She enjoys creative writing and world travel. Her art has been exhibited at Harvard Graduate School of Design and the Aroma Hotel, Chandigarh and been published in Chandigarh Times.
Originally from Chandigarh, Shilpa also has a degree in architecture and has worked in interior project management. She is also the author of the book "Designing a Chinese Cultural Center in India". Shilpa has a Masters in Design Studies degree from Harvard University.
For feedback and questions, please email [email protected]