After their Fall 2015 Ready-to-Wear and Couture collections, it was hard to imagine anything would top the gorgeousness and extravagance. But Dolce and Gabbana Spring Summer 2016 ready-to-wear collection earlier this week at Milan Fashion Week proved us wrong. The 'Italia is Love' collection celebrated Italian culture, art and architecture. Unabashedly feminine, the pieces used classic fashion elements in a brilliant way that was modern while being vintage!
Black lace midis, lemon and orange shaped earrings, OTT sunglasses embellished with flowers, Renaissance painting prints on dresses, applique with Italian tourism elements like the goldola and Michaelangelo's David, multi-colored tassles and pom-poms on heels – the collection was a bunch of colors and aesthetic. It was the type that would redeem a bad day!
Here are the 10 things we absolutely loved about the Dolce and Gabbana Spring Summer 2016 fashion show:
The Best of Dolce and Gabbana Spring Summer 2016 RTW
Mid to Low Heels
Embellished Sunglasses
Headscarves and Turbans
And all the different new ways to tie them!
The Fresh Beauty Looks
The makeup consisted of minimal winged eye n barely-there contouring plus dewey-natural pink lips.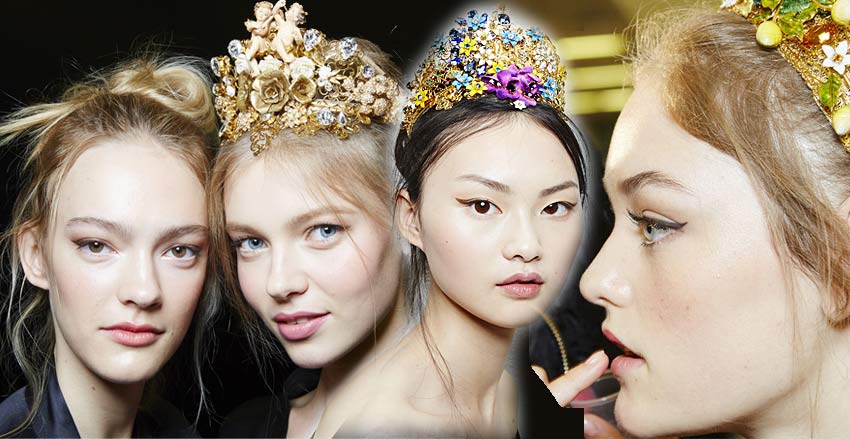 The Colosseum Belt
The Over-the-Top Embellished Shoes
And embroidered. And mirrored. With tassles and pom-poms. Plus stone-inlay work.
Embellished iPhone Covers
Models walked in with one or two handbags in one hand, a phone in another, maybe even a Dolce and Gabbana shopping bag with it. Some stopped midway on the ramp to take these lovely selfies that popped up in rotation on large screens on either side of the runway. The phone covers are all embellished with sequins and the works – to match the outfits!

The Camera Bag
Taking the tourist spirit to the next level, some of the micro-bags were inspired by point and shoot cameras!
The Extravagant Vintage Headbands
The embellished headbands were intricate and extravagant. Inspired by Italian art, some had flowers and fruits and even cherubs.
Gorgeous (and Unapologetic) Italian Inspiration
Dolce and Gabbana Spring Summer 2016 Gallery
Did you love the Dolce and Gabbana Spring Summer 2016 RTW collection? Which was your favorite look and how would you wear it? Let me know below! 🙂 Arrivederci!
Shilpa Ahuja the editor-in-chief of ShilpaAhuja.com, which she founded with the goal of inspiring confidence in the modern working woman through fashion. Other than defining the direction of the magazine, she also writes about fashion & beauty trend forecasts, industry analysis, and opinions.
Shilpa's work has been published in the University of Fashion blog and Jet Airways magazine. She is also an artist, illustrator and cartoonist. She is also the creator of Audrey O., a comic series that represents the lifestyle of millennial women. She enjoys creative writing and world travel. Her art has been exhibited at Harvard Graduate School of Design and the Aroma Hotel, Chandigarh and been published in Chandigarh Times.
Originally from Chandigarh, Shilpa also has a degree in architecture and has worked in interior project management. She is also the author of the book "Designing a Chinese Cultural Center in India". Shilpa has a Masters in Design Studies degree from Harvard University.
For feedback and questions, please email [email protected]