Black is the timeless classy color that never goes out of style. So here are my 10 favorite black nail art designs and inspirations for every occasion!
Hey gorgeous! Whether you're going to a casual date or a really formal dance, a black dress is never a bad idea. And a beautiful black dress calls for a gorgeous black mani. That's why I have recently started loving the idea of minimal black nail art.
This year, embellished nails and minimal nail art are both very trendy. So let's take a look at my 10 favorite black nail art designs and inspirations for every occasion – freshly pinned from Pinterest!
Let's start with my favorite: This nail art really makes matte black nail polish look so much sexier. Each nail is different, and yet it looks minimal. The use of white mini-beads looks like subtle embellishment and the matte gives a velvety look. Very classy, overall!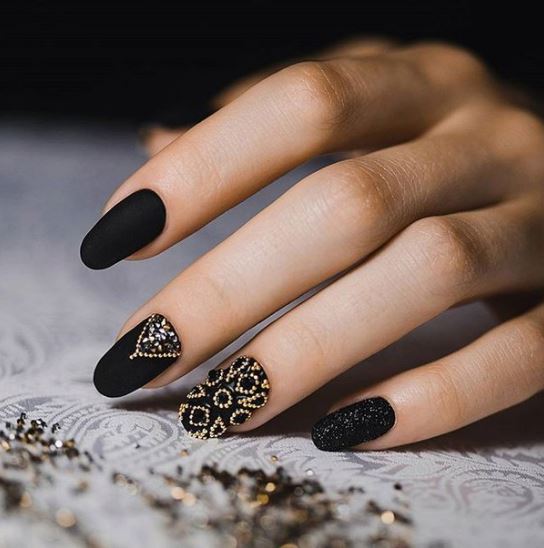 Here's one I'm really loving: black glossy nails, mixed with two micro-bead matte black nails, and a paisley pattern on two nails with microbead over matte black nail polish. It's great for casual days as well as parties.
Here's one that uses black glossy nail polish on some nails, and matte black adorned with rhinestones on the middle fingernail, with a paisley pattern on the ring fingernail.
Here are two by O.P.I.'s latest nailart gallery that I'm liking – one is a colorful modern design, and another is a black and white organic design. Both would work great with summer maxi dresses.
Here's a red carpet nail from the Grammy Awards 2016: Just black nails (or is it navy?) with a white ray in the center of each – this can easily be done at home too, and would work for casual outings or college, too.
And here are a couple of nail art designs by Essie. This first one is just made with black and white dots that can easily be made by even the most novice of nail artists, and would be a great idea for lunch or brunch.
Here's one with three-dimensional emboss effect:
And here's one with a pale gold Aztec-inspired design that would work for a casual dinner or party:
This one uses pale gold dots to give the illusion of micro-embellishment. Such a beautiful nail art design, and would work for formal parties or weddings:
So did you love these black nail art designs? Which one was your favorite? Lemme know! Comment below! Muaah XOXO 🙂
Related articles
Post a Comment!